The Aga Khan Academies and the Province of Ontario, Canada renew their partnership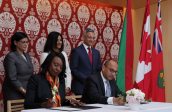 Signing of the Appendix to renew the partnershipOn 29 April 2018, the Province of Ontario and the Aga Khan Academies network of schools formally extended their partnership on mutually beneficial education projects, as part of the renewal of initiatives under an agreement between the Province and the Ismaili Imamat.
The Agreement of Cooperation that established the partnership was signed on 25 May 2015 by Premier of Ontario Kathleen Wynne and His Highness the Aga Khan. Joint projects have included the secondment of Ontario teachers to the Aga Khan Academies and a Post-Secondary Access Program that provides opportunities for Academies graduates in need to attend world-class post-secondary institutions in Ontario. Other joint initiatives have included policy dialogues and resources to promote pluralistic dispositions and cultural diversity.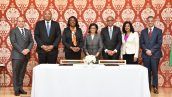 Partners on both sides welcomed the renewed collaborationThe Honourable Mitzie Hunter and the Honourable Michael Coteau from the Government of Ontario, and President Sheherazade Hirji of the Ismaili Council for Ontario, together hosted a signing event at the Ismaili Centre, Toronto to renew the Agreement's Appendix One, between the Province and the Aga Khan Academies. A second Appendix was also renewed that will allow the partners to continue to explore ways to promote inclusive understanding.
"Not only does it renew and enhance our partnership, which is rooted in our common values of enhancing the intellect and promoting pluralism, it also demonstrates how innovative collaborations can achieve extraordinary results," remarked President HIrji.
"Focus on access to education is something we take seriously here in Ontario," stated Mitzie Hunter, Minister of Advanced Education and Skills Development. "This partnership is what Ontario is all about…We are building on the vision of His Highness."
The partnership renewal provides for the extension of the teacher secondment programme in which Ontario teachers spend time at an Aga Khan Academy to help build outstanding teaching and learning practice while gaining first-hand experience in a different cultural and geographic context. The renewed Appendix provides for up to 30 teacher-year secondments over five years.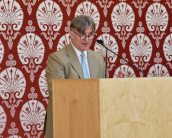 Dr Graham Ranger noted the catalytic impact of seconded Ontario teachersDr Graham Ranger, Academic Director at the Aga Khan Academies noted in his remarks that Ontario teachers seconded over the past three years have had a catalytic impact at the schools, sharing their expertise in areas such as literacy development and robotics. In their role as coaches, they have enriched the quality of professional development and teaching and contributed to outreach programmes with local schools.
The Post-Secondary Access Program has also been renewed and extended and provides talented Academies graduates in financial need with tuition waivers to attend Ontario institutions of higher education. This programme provides life-changing opportunities for these students, who have received financial support from the Aga Khan Academies during their earlier education. In Ontario, the students help enrich and add diversity to their university communities through their talents, values and global experiences. Over the next five years, the Province will provide tuition waivers for up to 100 new students.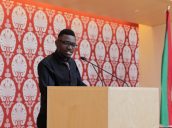 AKA graduate Kelvin Nduma talked about the impact of quality education in his lifeKelvin Nduma, 22, a tuition waiver recipient who had attended the Aga Khan Academy Mombasa with financial support, spoke about his background and what the opportunity for higher education in Ontario means to him. He said, "As you can imagine, once a student in a local Kenyan boarding school where I had to wash clothes myself with bare hands at the age of 10, walk several kilometres to the river to fetch drinking water and was forced to study in classrooms with no power, my presence today in a world-ranking university with all sorts of amenities provided is a dream come true…I am a beacon of hope to my family and community."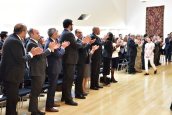 The audience warmly acknowledged the Aga Khan Academies graduatesAnother tuition waiver recipient, 20-year-old Muslima Niyozmamadova from the remote, mountainous Pamir region in Tajikistan, is committed to sharing her good fortune with others. A student of architecture at the University of Toronto, she hopes eventually to support development and quality of life in her home country through enhancing the urban landscape. She is also working to address poverty by empowering children from low-income families to succeed in their education – an initiative she began at the Aga Khan Academy and is continuing amongst homeless youth in Canada.
The personal stories of the two Academies graduates were a testament to the power of the partnership between the Province of Ontario and the Aga Khan Academies. As Michael Coteau, Minister Responsible for Anti-Racism, noted, "We're better off working together on this planet."
Click here to see a photo gallery of the signing event.