Academy students shine at the CASA swimming championship!
Junior and Senior School students from the Aga Khan Academy Mombasa bring home the CASA Level 1 swimming championship trophy.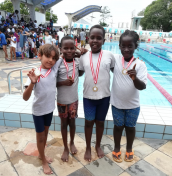 From left to right: Ethan Alela (year 3) and Mahmud Shallo (year 3)On 2 and 3 November 2019, 50 swimmers from Junior and Senior School at the Aga Khan Academy Mombasa participated in the Coast Armature Swimming Association (CASA) Level 1 swimming championship at the Bandari Maritime Academy. Scoring an indomitable score of 690 points, our students took home the first position trophy at the gala. 
The AKA Mombasa team was followed by Bandari Swim Club in the second place, and Mombasa Aquatics in the third position respectively. 
Amongst the winners, the following students gave an outstanding performance: Dinisha D'Silver (year 6) won gold in 100 metre backstroke, Ariella Zuri (year 2), Dalilah Mohamed (year 2), Zahra Karmali (year 2), and Juliet Ngalioma (year 2) together won gold in medley relay in the Under 7 category, Mikhail Samnani (year 2), Samuel Dudi (year 2), David Kiago (year 3), Liam Alela (year 2) secured gold in medley race in the Under 7 boys category.
The Academy congratulates all students on their brilliant performance and wishes them luck for future CASA Swimming Championships!