Academy Signs MOU with French Government and Alliance Francaise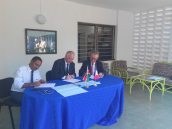 Signing of the MOU by the three partiesOn 13 January 2017, Head of Academy Raymond Zinsli signed a Memorandum of Understanding (MOU) with Alliance Francaise and the French Government represented by the Ambassador of France to Kenya, H.E. Antoine Sivan, at the Alliance Francaise in Nyali.
Aga Khan Academy Mombasa joins a network of 6 other pilot schools who will benefit from access to resources for the teaching and learning of the French language while connecting them to each other and to schools in France through various programmes. Furthermore, it involves informing the students in the pilot schools about higher education opportunities in France. 
Francis Kariuki, Head of Senior School shares his opinion of the new endeavour: "The MOU opens up opportunities for both our students and teachers of French. Access to pedagogical training for teachers would serve to enhance their teaching of French. Additionaly, the connection to schools in France will help improve learning through exposure to native speakers. Lastly, I believe that participation in various activities organized by Alliance will go a long way in making learning French fun." 
The Academy offers English, Swahili, Russian as well as French as First Languages and the hope is that this presents an opportunity to expand the resources for the different languages via patrnerships with different language institutions and governments.