Academy hosts 8th annual Peace Summit
From 12-13 March 2020, the Aga Khan Academy Mombasa hosted its 8th annual Peace Summit conference attended by more than 150 students and teachers from different schools within Mombasa County. The Summit's theme for this year, "Climate Action for Peace", draws attention to the importance of combating climate change to protect and promote peace worldwide by engaging young people on peace and conflict resolution.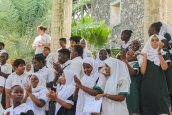 Students at the Peace Summit.The Summit provided an opportunity to a cohort of young enthusiastic peacebuilders to develop ideas and road maps to achieve sustainable goals and be advocates of peace in their communities. Facilitator groups participated in different peace sessions, group discussions and activities with delegates and speakers centered on various topics. The topics included: discussions on the dangers arising due to water scarcity; the impact of climate change on rising sea levels; the drastic effects of desertification; the importance of becoming more environmentally conscious; the ways in which climate change can lead to large scale tension between superpowers and how this may greatly impact global politics; the violence caused by the drought in Yemen; the effectiveness of the Paris Agreement and the essence of nations' contributions to this agreement; the Sudan Water Scarcity conflict; the threats of global wildfires; and the impact of increased temperatures leading to animal migration.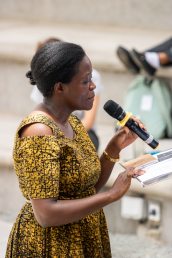 Guest speaker Anne Nyatichi Omambia.This year's conference was graced by two notable speakers. The first, Mrs. Anne Nyatichi Omambia, is the Chief Compliance Officer and Climate Change Coordinator for the National Environmental Management Authority (NEMA). She has 17 years of experience in environmental management and expertise in climate change mitigation, adaptation, carbon markets, international climate change negotiations and policy formulations. Currently she serves as a mitigation expert of the United Nations Framework Convention on Climate Change roster of experts. 
The second speaker, Mr. Paul Mutuku, is a young Kenyan-based activist working to champion for meaningful youth engagement on Climate Action, which is one of the global goals set by the UN. As the current regional coordinator for the Africa UN group, he works with "Youth4Nature" – a global youth-led organisation mobilising youth for nature-based solutions with a key focus for Africa on land restoration, reforestation, ecological farming and youth leadership across the spaces. He also runs an environmental initiative, "Green Treasures Farms", where he seeks to intensify environmental sustainability by engaging rural communities in Kenya to protect their biodiversity, grow organic food, grow trees and build sustainable communities.  
"The theme for this year was 'Climate Action for Peace'," said Head of Individuals and Societies Department Susan Abuto. "The students explored how changes in the climate can cause conflict among communities. However, the sessions were meant to make the Year 9 students reflect on the importance of conserving the environment and how this can be a vehicle for promoting peace in many communities – local, regional and international." 
"One thing one of our speakers consistently reiterated to the students was to be 'a Greta in your community,'" continued Susan. "There is an urgent need for students to be sensitised on environmental issues so that they can be agents of change and peace for a better tomorrow."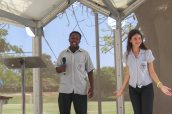 AKA Mombasa students on stage at the Summit.The summit, which is organised by the Academy in conjunction with the Year 9 and Diploma 1 students, aims to connect inspiring young individuals to develop their skills in the realm of peace education, help them exchange ideas and share projects, and also network with like-minded individuals and community leaders.