Ziyaan Virji: The International Leader of Tomorrow Award at the University of British Columbia
AKA Mombasa's Class of 2020 received prestigious scholarships worth over USD $6 million to attend reputable universities worldwide. The highly competitive, need and merit-based scholarships are awarded to outstanding students who have shown exceptional academic strength, leadership skills, and involvement in community service, co-curricular activities and student affairs. Over the next few days, we will highlight some of the recipients.
Ziyaan Virji, who joined the Aga Khan Academy Mombasa in 2016, received the International Leader of Tomorrow (ILOT) Award at the University of British Columbia (UBC) to pursue a Bachelor of Commerce degree in Entrepreneurship. The scholarship recognises international students who demonstrate leadership skills and community service. It is proportional to one's financial need and caters for tuition fees, healthcare and living costs.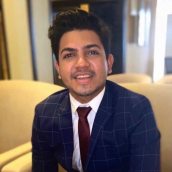 Ziyaan Virji."I was really happy that I got the scholarship because it came as a relief for my parents who won't have to pay for anything," Ziyaan said about receiving the scholarship.
Ziyaan attributes this recognition to his life-changing experience at AKA Mombasa, which he said afforded him many opportunities to develop holistically. During his time at the Academy, he served as a Residential Captain and was also a member of the school's cricket team. His most outstanding achievement was when he founded Affordable and Accessible Sanitation for Women (AASW) for his personal project as part of the Middle Years Programme in 2017. The project has since turned into an internationally recognised organisation now called 'For The Menstruator', which aims to ensure that every menstruator around the world has sustainable access to menstrual health and hygiene products. To date, over 8,000 menstruators across seven countries have benefitted from the programme. For this initiative, Ziyaan was recognised with The Diana Award in 2019 - one of the highest accolades for social action or humanitarian efforts that a young person can receive.
Excited about the start of his new journey in university, Ziyaan said he will never forget all that the Academy has taught him. "The Academy was a life-changer for me. I came as a seed in the garden of the Academy and I am leaving as a full-grown colourful scented flower," said Ziyaan. "The Academy has taught me the value of things like family, community, my education, my voice and so many other things that can be taken for granted. Most importantly, the Academy has made me a leader, not only of tomorrow, but a leader of today. It has made me altruistic and passionate about giving back to society."