Young Farmers and Book Club compete at Nairobi International Show
On 30 September, 2019, 22 students from the Aga Khan Academy Mombasa's Young Farmers and Book Club competed in the Stands Exhibit section at the Nairobi International Show where the Academy ranked second overall nationally.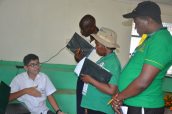 The Academy competed against 15 schools and three colleges for the Stands Exhibits section in Nairobi. They won three, 1st prizes in Cookery, Woodwork and ICT and Innovation, two, 2nd prizes in Handcrafts and Flower Arrangement and two, 3rd prizes in Farm Produce and Metal Work. 
"We are happy with the life skills attained and the interest in agriculture and trade from our students," said Henry Nyagah, one of the supervisors for YFC and Book Club.
Nivyan Lakhani, year 9, whose exhibit won, said his experience on the trip helped him understand what it means to be an IB student at AKA Mombasa.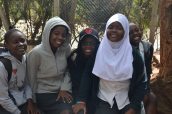 "My exhibit was based on technology and agriculture on how farmers can improve security in their farms through technology," Nivyan said. "I took my laptop, keyed the code and started the PowerPoint presentation. The judges took sometime to come to our stalls since there were various exhibitors from different schools and colleges, however, everything in the project was running smoothly. This trip made me develop not only as a young farmer, but also as an IB thinker. I saw the IB learner profile in action; this trip was unforgettable."
Muborak Davlatshoeva, year 8, said she enjoyed the trip because it enabled her to showcase her passion, art, and bond with her peers.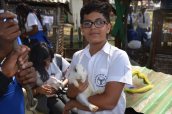 "This was one of the best trips that I have went to," Muborak said. "This trip gave me an opportunity to show my art talent, learn more about history and farming, bond with people from diverse background and learn new things. The trip was very educational and fun too."