Young Farmers and Book Club compete at International Trade Fair
The Young Farmers and Book Club took 21 students to participate at the International Trade Fair from 30 September to 3 October held in Nairobi, Kenya. At the event, students engaged themselves with various organizations, created proposals that were judged and visited many places in Nairobi. Here, Sonakshi Roy, year 8, Sara Samuel, DP1, and Henry Nyagah, the Young Farmers Club patron, share their experiences from the trip.
"The Book Club and the Young Farmers Club members visited Nairobi, Kenya to take part in the International Trade Fair. For the event, we were supposed to select categories, which included: applied sciences, fine arts, knitting and crocheting, handcrafts, woodwork and more. I chose the applied science and fine arts category.
I prepared a model of a biogas plant and multiple pieces of art that represented Warli painting, which is a beautiful folk art of Maharashtra that is traditionally created by the tribal womens. The tribal people express themselves in vivid styles through paintings, which they execute on the walls of their houses. My peers also prepared various items during the Trade Fair and all of our presented items were judged.
On the third day of the trip in Nairobi, we visited the United States International University Africa, where we were given a tour of the library. During this tour, I was able to learn multiple new things, such as what happens behind the scenes in a library and the processes involved before accessing a book on the shelf.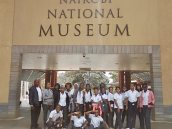 Young Farmers and Book Club at the Nairobi National Museum.We visited the Nairobi National Museum as well, which was a very educationally enriching experience for me. Multiple showcases depicted both prehistoric and present animals and ancient artifacts relating to Kenyan history and culture. We also visited the snake park where I was able to see and learn about the different species of snakes. This was also very educational, but the biggest challenge was to hold and put a python around my neck.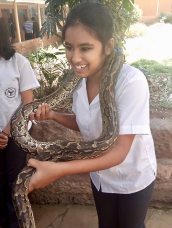 Sonakshi Roy, year 8, at a snake park with a python around her neck.Overall, this trip to Nairobi was very educational, productive, informative and fun for me. I sincerely enjoyed it and I was able to learn a lot." – Sonakshi
"The Nairobi trip the Young Farmers Club took to the International Trade Fair was full of new experiences and new discoveries. I am proud to say I was able to learn many new things along the way.
Presenting our items at the showground was one of the incredible moments because it pushed me to get out of my comfort zone. Getting a chance to explain all the products helped me improve my communication skills because I had to communicate effectively.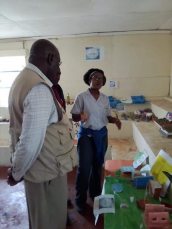 Sara Samuel, DP1, presenting her proposal.It was a very eye-opening experience for me because I was able to learn about new issues that affect our world and how we can use simple skills to come up with solutions to these problems. I think this whole experience made me become aware of my surroundings and how I can easily use limited resources around me to solve issues affecting us and make the world a better place.
Visiting the United States International University Africa gave me a chance to broaden my understanding and clear all assumptions I had on the work of a librarian. Personally, I used to think a librarian was someone who arranges books on the shelf and issues books to students. A librarian actually does so much to ensure everything is in order in the library. I would say that now I have become more appreciative of the work librarians do.
At the Nairobi National Museum I was able to learn about the history of our country through the exhibits being displayed. This helped me embrace the beauty in the life our ancestors lived and how it shapes the world we live in today.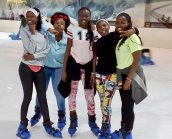 Sara Samuel, second to left, with other members of Young Farmers and Book Club.Overall, I would say this trip was fun and knowledgeable. I really learnt a lot from this whole experience. This trip also gave me a chance to enhance my leadership skills because I was the only Diploma student present, therefore, I had to take the initiative to lead the others and be a role model to them. It was an amazing trip." – Sara
''This year, our students took part in the stands exhibits judging section and we took the second position overall. They had outstanding results by winning first prizes in fine arts, science, cookery and local handicrafts exhibits. We took this opportunity to learn many new skills and especially value agriculture. We look forward to putting into practice the lessons we learnt at the Academy.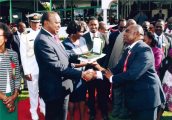 Henry Nyagah with the President of Kenya Uhuru Kenyatta.The President of Kenya is the patron of the Agricultural Society of Kenya. He usually gives special recognition to individuals in the Society who have served long and loyally to achieve its objectives. This year I was recognized for the 30 years I have served the Society since my school days by promoting the active participation of the youth in agriculture in Kenya. We have engaged actively, with results in soil conservation measures, especially tree planting drives, as well as empowering the youth to be self-reliant by engaging in various agricultural practices. I am grateful to receive this honour.'' – Henry