Year 9 Students Engage With Questions Of Peace And Conflict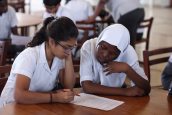 Students from Aga Khan Academy Mombasa and Mbaraki Girls High School work collaboratively on an activityOn 16 and 17 March, the 5th Annual Peace Summit was held at the Aga Khan Academy Mombasa under the over-arching theme of "Conflict Over Resources". Year 9 students from the Aga Khan Academy Mombasa, in addition to students from 3 other schools, Aga Khan High School, Mbaraki Girls High School and Shree Swaminarayan Academy, participated in sessions to learn more about issues of peace and conflict in the region as well as globally. 
The summit is a unique event which takes place annually at the Aga Khan Academy Mombasa. It is organized by the Department of Humanities while the sessions are planned and led by Grade 11 students at the school with guidance from their teachers.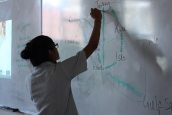 A DP1 student leads a session for the Year 9sThe sessions covered a wide range of topics under the main theme: from maritime disputes to blood diamonds to water resources and more. Year 9 student, Samiha Mattar, shared that she learnt so much over the course of the two days about different conflicts as well as the mindset of parties involved in conflict: "In one of the activities, we had to come up with reasons to lay claim over 'fake' resources for our respective groups. After a lot of arguing, it made us realize that if we were so divided over something hypothetical, what about countries and groups fighting over real resources which are worth millions of dollars?"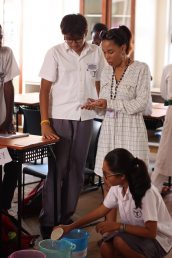 Students work with a teacher on an activity about water resourcesThe students also had the privilege of interacting with guest speakers, one of which was Mr. Samburu Washiko who has worked for various UN organizations, the World Economic Forum and is currently a senior adviser to the Bill and Melinda Foundation. He highlighted the relevance of such an educational event considering the anxiety and uncertainty Kenyans are facing with regards to the upcoming elections. Furthermore, the current state of world affairs begs the questions of how  scarce resources can be distributed equitably. 
According to Bhagirathy Jhingran, Head of the Humanities Department, "It is imperative that we guide and teach our young students to think of alternatives which are creative, life-saving and universal. Indeed, it was a confluence of ideas and young people and the impact of this summit will have far reaching results even as these young students grow into future leaders of the various regions and groups that they represent".
By Aleesha Suleman
Photo Credit: Alexandra Holland