Year 10s host personal project mock exhibition
On 13 November 2020, the Year 10s hosted a virtual mock exhibition of their personal projects to showcase their projects with teachers and get feedback as they prepare for the main exhibition happening on 5 February 2021, which will mark the culmination of the Middle Years Programme. George Gachoya, AKA Mombasa's Personal Project Coordinator, tells us more about the exhibition.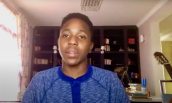 Joseph Warioba virtually presenting his personal project, 'Building confidence and self-esteem'.The personal project exhibition is the final milestone of a year-long process undertaken by students in their final year of the International Baccalaureate Middle Years Programme. It is the point at which they showcase, not only their products/outcomes, but also how they have been able to hone their approaches to learning skills, such as research, self-management, collaboration, critical thinking and reflection. Moreover, they are required to show how completing their projects have expanded their knowledge on their topics as well as their development as IB learners using the IB Learner Profile attributes.
Here at the Aga Khan Academy, Mombasa, we prepare students for the final presentation by conducting a personal project mock exhibition three months prior to the main one. This is important so that students can get rid of stage fright and acquire important feedback that will enable them to improve their products/outcomes as well as the overall presentation.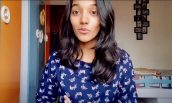 Maria Thathiya virtually presenting her project, 'Fashionably Late'.This year, the mock exhibition was held virtually on the 13 November because of the new normal brought about by COVID-19. It is also the first time that a website was created to enable members of the school community who were not directly involved in the exhibition to take part in giving feedback to the students. Despite a few hiccups, all the eighty three Year 10 students were able to showcase their work to the younger year groups, mentors and teachers.
Preparations for the main exhibition on 5 February 2021 are ongoing. I encourage the students to utilise the feedback received in adjusting their presentations. We will work closely with them to ensure that all their presentations are recorded on the website.