Who hits the sixes? Girls.
All of the sports at the Academy have a boys' and girls' team, except for cricket. This sport, being played at the Academy for about four years, only has a boys' team. However, this is about to change.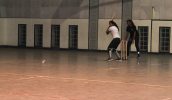 "If you see all sports in our school - football, basketball and badminton - in all of those sports there's a girls' team, and cricket was the only sport that didn't have that," said DP2 student Ali Muhammad Khowaja, who pitched the idea of having a girls' team. "So we thought, 'why not get cricket (to have a girls team) as well?' because it's also a very good sport."
Ali Muhammad plays for the boys' cricket team at the Academy. Born and raised in Pakistan, cricket has been a part of Ali Muhammad life since his childhood. Now, he wants girls to have an opportunity to play a sport they might feel passionate about as well.
"We thought the girls from our school can go out and play in any cricket leagues and bring trophies, and just know the sport and enjoy playing it," Ali Muhammad said.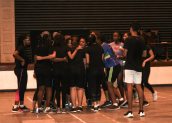 Although there was some pushback received for having a girls' team, Ali Muhammad said he didn't see any harm in trying the idea out.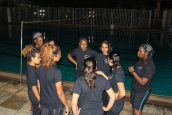 "I thought of (having a girls' team), but then I had to speak to the team," Ali Muhammad said. "Initially in our cricket executive meeting (it) wasn't appreciated. People thought it wasn't that practical; (cricket is) not an easy sport and also the timing and organizing (the practice session) was a challenge. But I thought we could just give it a try because it's also national women's day and it will be a good start."
In preparation for the cricket event being held last Friday on International Women's Day, Ali Muhammad said they held a practice session for the girls the day before. To spread awareness about this, he said he posted it on Managebac and told girls to come. He said he wasn't expecting too many girls to show up because the response wasn't so good, but he was surprised when the day of the session came.
"We did a practice session yesterday (Thursday) and we were actually shocked because the girls came and were improving really nicely," Ali Muhammad said. "We learned cricket when we were children and we took a lot of time to improve everything and take a shot, but yesterday in our first session, we could actually see some people hitting some really good shots. So the improvement was really nice from the girls' side. Their response was really good. They said they're really excited about (the game) and they would like to continue doing it."
DP1 student Soniya Marghani, one of the players for the DP1 girls' team, said she's been wanting to play cricket with the boys but was too intimidated. Soniya also said she's been pushing for a girls' cricket enrichment, but didn't see any interest from anyone. However, she said she was shocked when the practice session occurred on Thursday.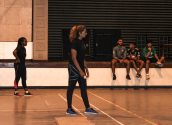 "We had our first training session and there was a huge turnout," Soniya said. "They came in attire, in uniform, just for the will of playing. It was supposed to be from 4-5 but everyone played till like 6, 6:30. Then we decided that every week on Thursdays we can meet up and make it a club, and people were actually really excited about it."
Soniya said it didn't seem like cricket was a sport a lot of girls at the Academy were enthusiastic about because of the stereotypes surrounding it.
"I think no one had the will to actually force people to actually take it up as an enrichment, as an activity," Soniya said. "Because it's mainly a 'boys' sport, so it always (makes me upset). Since the age of 5 I've been playing and everyone's been telling me that it's not for me to play, it's just for boys, it's just for boys. So no one had the will to push a group of people to actually go and play, so I think maybe that was the issue. I don't think anyone had such a strong passion towards cricket."
DP2 student Stephanie Chege, who played for the DP2 girls' team, said she and her friends decided to get involved in the event because it's their last year at the Academy.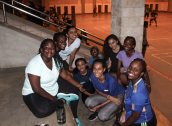 "We had the chance to do something so why not do it?" Stephanie said.
Stephanie said the cricket event provides people, especially girls, with the chance to showcase their talents.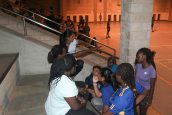 "I'm not a huge cricket advocate, but for the people that don't play football or basketball, it's a really good opportunity for them to do what they're good at," Stephanie said. "I think (the cricket event is) one of the first events to have a girls' category indoor sports thing; I think that's also super important. I really like the fact that they made an initiative to get girls to play it."
In order to continue to provide the girls at AKA Mombasa a chance to play cricket, the boys' cricket team is hoping to help the girls create an enrichment for them so they can keep practicing.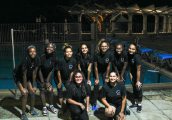 "It's not just about empowerment, it's just about the spread of the sport," Soniya said. "So many people think it's only for Indians or Pakistanis, or just Asians in general. It would be nice if people take up this sport because it's a fun sport and everyone should be able to play it."
By Anusha Lalani