Visit to Adult Education Centres in Mombasa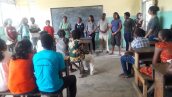 AKA Mombasa students learn about adult education in KenyaIt is never too late to turn your life around, and this is a lesson we learnt on our recent community service visit. On the morning of Saturday 04 February 2017, a group of AKA Mombasa students ranging from Year 9 to DP2 visited the Adult Education Centres located in Tom Mboya Secondary School and Ronald Ngala Primary School. The purpose of the visit was to donate learning materials such as educational texts, bookmarks and fictional books to the centres at both schools.
 The first trip was to the Adult Education Centre in Tom Mboya Secondary School and it began with an introduction by the County Director of Adult Education Officials in Mombasa about the practice of adult education in Kenya. We were briefed about the nature of adult education and the reasons that the students were learning at their advanced age. After gaining a better understanding, we were given time to socialise and interact as fellow students, discuss our syllabi and favourite subjects, our aspirations, and the challenges we face in school.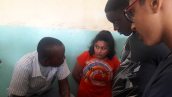 Students reflect on their experiencesThe conversations we had with the adult learners gave us hope and motivation to finish our education as they reminded us how important education is and how far it can take us in life. We specially realised how fortunate we are to receive a quality education that many people in our world today are deprived of.
It warmed our hearts when we saw the faces of all the learners as they received the books we had brought for them. The Adult Education Centre in Mombasa suffers from limited learning resources, which is why the books donations we gave the centre brought smiles to so many faces and gave us the most rewarding feeling. We realised that even a gesture as small as donating books can go a long way in impacting the lives of the adult learners in a positive way.
By Stacie Mburugu, Emma Mbuthia, and Bijou Mwara