Virtual parent workshops hosted by Academy
The Aga Khan Academy Mombasa hosted virtual workshops tailored for parents on 12, 15 and 19 May 2020. The workshops focused on the power of language and its impact on family systems, organisation skills, and how parents can best support their children who are virtually learning from home. Here we learn from Minal Shah, the head of student support and well-being coordinator at the Academy, who organised and led the workshops.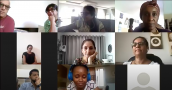 Parents taking part in the virtual workshop.If it were not for the parent community, we wouldn't have such a vibrant student body at the Academy. With the virtual way of doing things now, we've managed to cater to our students, but thought it equally important to reach out to parents, hence the online workshops to connect with them.
We've hosted three virtual meetings. The first two, held on 12 and 15 May focused on the power of language and its impact on family systems. During these sessions, we explored how language influences our thoughts and behaviour, especially at a time such as this when we're spending so much time together indoors as it shapes the dynamics in our homes. 
The second workshop, hosted on 19 May, focused on organisation and guiding parents on how to offer support to their children who are learning virtually from home. The switch to online learning has not only been a new experience for our students, but for our parents too; supporting parents was therefore equally important. It isn't about becoming the teacher at home, but creating the space and support system that will be conducive for the learner. The organisation of the learning space, materials, tasks at hand and an insight into gauging their children's emotional well-being has an impact on how they are able to manage themselves and their learning. We further went on to share the different features of ManageBac, a platform we have been using at the Academy that can help parents oversee their children's classroom attendance, task submissions, pending work as well as performance.
Some of the encouraging feedback we received from parents that took part in the workshops is highlighted below:
Thank you very much; we know this is tough but we will support in all capacities. We want to have them back in school, but we have to accept the reality now and ensure they are still learning. -Adila Ismail
The workshop was very informative and encouraging. We are very grateful for the support. -Ruth Wambui
As a new parent in the school, I was pleased to see and hear from some of the other parents albeit virtually. -Mrs Adam
Thank you. Keep bringing up more of this. -Susan Ashita
This feedback highlights the crucial role parents play. Schools rely heavily on parents' support, and for that, we're grateful to our parent community. We look forward to holding more virtual workshops in the coming weeks as we keep with the spirit of connectedness.