Virtual internship at madrasa in Zanzibar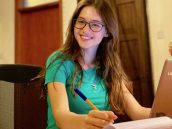 Cinzia Torriani virtually interning at a madrasa in Zanzibar.Second year Diploma Programme (DP) students, Cinzia Torriani and Salik Qureshi, spent four weeks of their summer break virtually interning at a madrasa in Zanzibar. The madrasa is under the Madrasa Early Childhood Development Programme by the Aga Khan Development Network, which focuses on transforming the quality of life of young children and their families and building strong institutions, leaders and professionals. The programme provides pre-school education for young children, which is important as it has a positive impact on their long-term early childhood experience.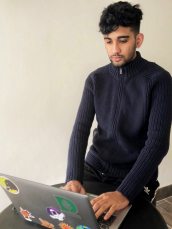 Salik Qureshi virtually interning at a madarasa in Zanzibar.During their internship, Cinzia and Salik worked on the digitisation of children's books to give young children easy access to learning resources. Their main tasks involved converting hard copy books into soft copies and using colourful clip art to make the books interesting and informative. Looking back on the experience, Cinzia and Salik said it was enjoyable and enriching.
Cinzia: "I truly enjoyed the experience. It was a wonderful way to learn new skills and give back to the community by helping young learners have access to educational resources. I now also have a deeper understanding of the work AKDN does to positively impact the lives of others."
Salik: "The internship was a very exciting and enriching experience for me. I had the opportunity to harness my artistic skills and evoke my critical thinking and creative abilities when designing the digital books."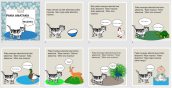 A soft copy of one of the hard copy books Cinzia and Salik digitised.For Cinzia and Salik, the internship was an opportunity to give back to a greater cause and be involved in developing the AK Strands they aim to embody. Other than improving their digital skills, the internship provided a great opportunity to test out other abilities, grow and learn new things. They were able to nurture skills such as organisation, time management, accountability and responsibility as they had to plan their schedules during the internship and make sure they completed their tasks on time. They both also learnt how to think out of the box when creating the digital books and improved their working proficiency of Swahili as the books were in Swahili. On a personal level, Cinzia learnt the importance of recognising one's privilege to give back to society whereas Salik learnt that productivity is self-driven and can be achieved from any environment, virtual or physical.
Having learnt so much during their internship, Cinzia and Salik highly recommend that future DP1s take advantage of the summer internship opportunities because they will gain valuable work experience and important skills needed in day-to-day life. They also say that students will learn more about themselves as they go out of their comfort zones to try out new things.