Virtual internship with AKF Geneva, Switzerland
During the summer break, the Aga Khan Academies and the Aga Khan Development Network partner up to provide internship opportunities for students in the Diploma Programme. Due to COVID-19, the internships took place virtually giving students an opportunity to intern at various institutions around the world. Diploma Programme (DP) 2 student, Saliha Mukhi tells us about her experience interning with the Aga Khan Foundation in Geneva, Switzerland.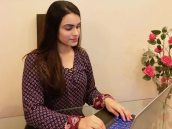 Saliha Mukhi virtually interning with AKF Geneva.1. Where did you intern and for how long?
Saliha: I virtually interned with the Aga Khan Foundation (AKF) in Geneva, Switzerland for about four weeks. AKF is committed to breaking the cycle of poverty and helping to build strong, healthy and inclusive communities where everyone has the opportunity to reach their full potential.It works primarily in six areas with gender equality and inclusion mainstreamed throughout all programmes including, Agriculture and Food Security; Economic Inclusion; Education; Early Childhood; Health and Nutrition; and Civil Society.
2. What did you work on? What were your key responsibilities during the internship?
Saliha: Under the sector of Health and Nutrition, I worked for the Central Asia Stunting Initiative (CASI), a project pioneered by AKF that aims to mitigate stunting (low height for age) and under-nutrition across 447 remote communities in Pakistan, Tajikistan and Afghanistan. The stunting levels in these areas are unacceptably high and are compounded by high levels of micronutrient deficiency and acute malnutrition. During my internship, I developed a research protocol for CASI delineating the rationale, objectives, design, methodology, and statistical considerations for implementing this project. This entailed a research-based study on the causes and effects of stunting and under-nutrition in the targeted geographic locations, and a critical analysis of the key interventions proposed by CASI to reduce stunting amongst under-five children by 10%, the prevalence of low birth-weight babies as well as improve the nutritional status of children. The research protocol shall be published hopefully in the course of the next 6 months
3. What was the experience like for you?
Saliha: Due to COVID-19, I was required to undertake the internship virtually, hence all communication was carried out through online platforms such as Zoom and Microsoft Teams. The idea of having to intern with AKF Geneva under the sector of Health and Nutrition really appealed to me and I was keen to work with CASI, considering my passion for Biology. My prior knowledge in this field along with my good writing skills helped me undertake my tasks efficiently.
This internship allowed me to apply theoretical knowledge to real-life situations as I learnt how health organisations operate and lay down interventions to address challenges faced by individuals. I also gained significant knowledge about stunting and under-nutrition and how little things during the birth of a child can have a significant impact on his/her life.
4. What did you learn during the internship that you feel will help you out in the future? Any skills? Any attributes?
Saliha: This experience provided me with a phenomenal opportunity to gain theoretical knowledge from professionals, explore potential career paths, learn about workplace culture and employee relations that would help me in my professional career. It also played a formative role in my personal growth as it equipped me with a range of skills including time management, problem-solving, communication and adaptability. On the whole, this experience has been highly rewarding for me as I attained first-hand exposure of working in the real world.
Through this internship, I was also able to augment my learning about the current state of the development sector that seems to be in crisis; and how AKDN brings together a number of development agencies, institutions, and programs that work primarily in marginalised parts of Asia and Africa and implement strategies to help those in need achieve a level of self-reliance. Hence, I wish to work with such development organisations in the future.
5. Would you recommend this to future DP1 students and why?
Saliha: I believe that internships are really important because they provide students with work experience that helps them put their education into practice and develop a skill set that is essential for their personal and professional growth. However, it is important that students choose the right internship for themselves because it can be a gateway to their dream career.