Virtual internship with AKF Canada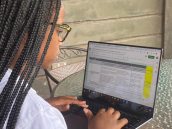 Tia Mbabazi virtually interning with AKF Canada.Second year Diploma Programme (DP) student, Tia Mbabazi, virtually interned with the Aga Khan Foundation Canada (AKFC), an agency of the Aga Khan Development Network committed to breaking the cycle of poverty and helping to build strong, healthy and inclusive communities where everyone has the opportunity to reach their full potential.
During the internship, Tia, who was supervised by a mentor in Canada, was tasked with analysing the data of a survey research conducted in different schools in various countries about the methods of distance learning they preferred to use during the pandemic. She also conducted research on the impact of COVID-19 on East Africa and education inclusivity in Tanzania. In addition, she wrote a composition about what it is like to be a teenage girl in Uganda.
Tia described her experience as an "eye opener" as she was able to understand the challenges faced by different people in different communities and worked her best to help in any way she could. Moreover, she learnt how to manage her time well and the importance of working well with others to create a good working environment, which increases productivity.
After an enlightening experience, Tia recommends that future DP1 students consider undertaking summer internships. "It will help them put into perspective what they would like to do in the future and understand the work dynamic. They will also gain research skills that can help them in school."