The Virtual Chess Club is an enrichment led by Diploma Programme 1 student, Jeremy Michoma, in which students with a shared passion and interest for chess play against each other in weekly online tournaments. The club also has a social media group where chess puzzles and other content relating to the board game are shared.
The enrichment aims to provide a platform for its members to practise and build upon their chess skills. It also helps them develop a healthy competitive spirit through the contests as players earn two points for a win and one point for a draw and in the end, the points are summed up to declare the final standings.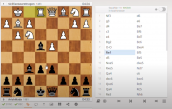 Online chess tournament between students.Jeremy, who stumbled upon chess by accident nearly three years ago, says he decided to start the Virtual Chess Club because the game has been a great source of positive change in his life.
"I've learnt to work well under pressure because chess games are usually timed to a maximum of five minutes for each player to make all their moves otherwise they lose. Quick but accurate thinking is thus mandatory and a high degree of calmness is required to pull it off," says Jeremy. "I've also improved on my critical thinking because chess is a war of minds that requires profound thought to emerge victorious."
In the long run, Jeremy foresees a bright future for the enrichment, as he states enthusiastically, "I hope the Chess Club can be credited with a spike in popularity of the game of chess at the Academy by introducing more students to the game and improving upon the capabilities of the students that already play. I also think the Academy will be a force to reckon with when playing against other schools in chess tournaments." 
Overall, the enrichment has not only helped students enhance their strategic thinking skills, it has also been a fun place for students to meet and engage.