Video: Aiza Fazal's song of hope
Aiza Fazal, a Junior School student at the Aga Khan Academy Mombasa wrote new lyrics to the melody of 'We are the World', originally composed by Michael Jackson and Lionel Richie, in an uplifting rendition to share a message of hope given the current global situation.
In her version, Azia sings about COVID-19 as she spreads awareness about the pandemic and the importance of following set guidelines to keep safe. She also shares a glimmer of hope for the situation to get better eventually.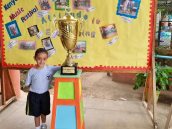 Aiza Fazal with the winning trophy from the 2019 Kenya Music Festival.Aiza, who will be in Year 2 in August 2020, has always been passionate about singing. In 2019 she took part in the Kenya Music Festival in Nakuru where she placed first nationally.
"This is a very good message for all people but especially for my school and my friends," Azia said about the inspiration behind the song. "This is a very serious virus and it can infect anyone at any time."
The Academy has always encouraged creative expression among students to share their thoughts and feelings encompassing different topics or situations. At such a time, music or any form of art does more than entertain or uplift, it can also aid in the quick transmission of information to people.
Here's a beautiful video of Aiza singing the song: