Vice Principal of Professional Development Centre Featured as Thought Leader in Online Learning
In a list of the 100 most influential people in online learning in Africa by Learning News, Vice Principal of the Professional Development Centre Dr. Maina WaGíokò was listed as No. 83.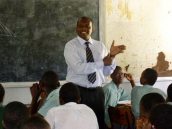 Dr. Maina WaGíokòAccording to the website, Maina is recognized as a "thought leader within the educational sector in East Africa, especially in the use of technology in education." His selection was done through a judging process by an "independent – and non-African – group of judges from the online learning technologies industry," according to the website.