Ubuntu Football Festival Third Edition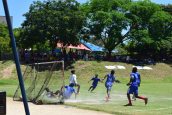 A team caught in action during the Ubuntu Football Festival November 11 and 12 marked important dates for the Stand Up Shout Out (SUSO) Club of Aga Khan Academy Mombasa. It was the Third Edition of the Ubuntu Football Festival (UFF) which took place on school grounds bringing together the youth of Mombasa in the spirit of football.  
SUSO is a youth organization founded in 2013 by Peter Moll. SUSO aims to make a positive contribution to society, speak out against all ills and injustices, bring together the youth in Kenya and set a foundation for the accessibility of sustainable socioeconomic and environmental change for the youth globally. They hope to enrich the quality of life, promote patriotism, welfare and strengthen unity amongst local and global communities, thus building on the basis of humanity and compassion.
The organization has a growing member base, currently having over 100 members of the youth from different walks of life.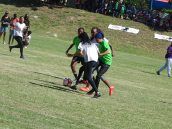 The UFF is one organizations main events, the first being held in 2015. The aim of this event is to provide students the opportunity to interact with people from a range of socioeconomic backgrounds and classes, fostering social interaction and cultural awareness as well as increasing community participation.
Girls playing diligently The event was held this year to raise funds for a library project conducted by the SUSO Division of Mombasa at the Khadija Primary School in Nyali. SUSO has carried out many projects at the school including "Feed a Soul" – a project that aims to better the lives of the students and the surrounding community through better standards of education. The division intends to continue this project through the construction of a library – a facility that is extremely important and beneficial in educating children and providing them the opportunity to access resources.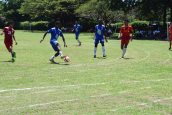 Roughly six hundred people, both participants and spectators attended the event, making this years festival one for the books. A total of thirty-nine teams football teams registered for the event. The teams ranged from Under Nineteen Boys (U19 Boys), Under Twenty-five Boys (U25 Boys), and Under Twenty-three Girls (U23 Girls).
A team member using footwork during the gameSUSO would like to give special recognition to the wining teams of each category: Tana FC (U23 Girls), Bibla FC (U19 Boys) and Nyundo FC (U25 Boys). Also a big thank you to the CEO of the organization: Mr. Peter Moll, the Mombasa Division Director: Arzoo Rajpar and the Aga Khan Club President: Mariam Alwy. Together with their entire team, the event was successful in raising a large sum of money that will entirely be allocated to the Khadija Primary School Library Project. The club would like to thank all of its sponsors- without their kind support, the event would not have been possible.