TEDx Youth @ AKAMombasa Videos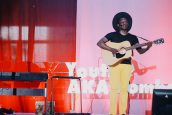 Chris MuthokaThe videos from our highly successful and competely student-driven TEDx Youth Event at the Academy have finally gone up online. You can find them here  or by searching  TEDxYouth@AKAMombasa 2018 on Youtube. You can read more about the event here. Thank you to both the Academy and Mombasa community  for supporting the TEDx Team in this journey. We look forward to providing another innovative and meaningful event this year!
Videos include:
AKA Mombasa alumni: Elias Okwara, Sharon Muchina, Neel Patel, Hezekiah Owuor, Ciku Kimani, Aroha Oyugi, Wacera Muriuki, Nisha Achieng, Wandia Muchiri, Wayne Kigen.
AKA Mombasa current students: Gregory Wahome & Lotfi Aden, Elya Djaffar, Muskaan Bhaidani, Aly Jassani.
External speakers: Aisha Wanjiku, Kimathi Kiambutho, Chris Muthoka, Sean Karanja, Douglas Kihiko.
Read below for some reflections from 2 members of the organizing committee: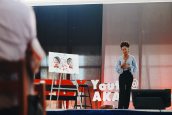 Sharon Muchina 
Zohra Dewji, Class of 2019. 
"My experience during the TEDxYouth @ Aga Khan Academy Mombasa was definitely an unforgettable one. As soon as I heard about this amazing opportunity, I knew I wanted to be a part of it. My TEDx journey commenced around 6 months before the event. I started off with being the junior executive for set/venue design. This position required me to work hand in hand with the senior set design executive in order to attain new skills from him. There was a lot of planning involved throughout this process and we had to consider various factors when setting up the venue such as lights, sound, stage setup, photo booth, stage props, seating arrangements etc. It was up to us to make the place look as aesthetically pleasing as possible and create the TED environment. This was a very physical job that demanded a lot of practical skills which is luckily one of my strengths.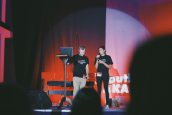 Lead organizers, Ryan Herman and Saumya GuptaBesides obtaining various practical skills, this valuable experience definitely enhanced my interpersonal skills which are most important to me. Communication played a vital role throughout the process as we had to coordinate with various people such as the technicians, the human resource manager, carpenters and most importantly with the rest of the executive committee. Moreover, this involvement strengthened my collaboration skills as there was a lot of teamwork needed when setting up the venue, and along with that we learned so much from each other. It would be next to impossible for me to pull this off on my own.
There were several obstacles that we came across especially as we got closer to the day. However, due to our strong problem-solving skills, we were able to overcome these obstacles. One very important thing I have learned throughout my TEDx journey is If things do not turn out the way you planned, giving up is not a solution. You must strive to achieve your goals and make it happen no matter how challenging it may be. All in all, I must say that our hard work and effort definitely paid off. The event was a huge success this year, and  I am looking forward to being part of TEDxYouth at The Aga Khan Academy Mombasa next year!"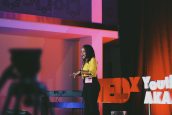 Kirunda Kunyiha (KK), Class of 2019. 
"A year ago today, I don't think I'd have ever imagined that I'd be part of the amazing team that organised the TEDxYouth event @ AKAMombasa. I didn't even know if I would join the school! As fate, God and the universe would have it, I managed to join the executive team as part of the media and marketing team. My job, along with my mentor/senior executive, was to promote the event and raise awareness. This requires setting up social media accounts on different platforms and finding ways to best advertise the event. We made posters, videos and photos which we shared on our various social media platforms (Instagram, Facebook and Snapchat). 
The entire process was a big learning experience as I had never done anything to do with marketing (I had adept experience in handling media). I really liked the fact that I had a team with me that made the job of sharing everything a lot simpler. Furthermore, my mentor showed me some tricks that I hope to pass on next year when we hopefully hold the same event."
Organising the event really opened my eyes to what goes on behind the scenes of an event. From running around looking for resources to late nights sorting out emails, I loved every second of it. As they say, the things that we have to struggle for the most are usually worth the most."