Teacher exchange continues with visit to Hyderabad campus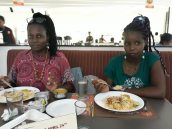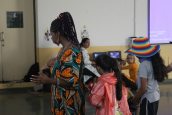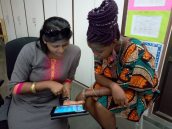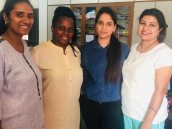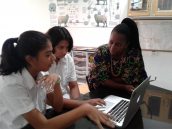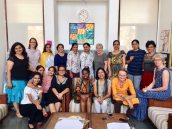 As part of the teacher exchange programme between the Aga Khan Academies in Mombasa and Hyderabad, Senior School facilitator Lucy Mwandawiro and Junior School facilitator Dorcas Kisilu spent two weeks at the Academy in Hyderabad  between 15th – 26th April 2019.
The teacher exchange creates a path for sharing knowledge and experience within the network, and is a great opportunity for travel and learning about culture at our sister schools. Both exchange teachers were impressed by the confidence in the students they met. "In the grade 7 science class, students wanted to know more about Maasai culture as they researched on indigenous knowledge systems," says Lucy. "It was a learning moment as one group of students shared about the different indigenous medicines used in India and Asia."
"There was so much to learn so I met with quite a number of people," says Dorcas, who had a very productive trip. Dorcas used the exchange to discuss teaching methods and borrow ideas from Junior School's ICT department, the PYP coordinator, and the teachers of grades 5 and 3. She also read with our grade 1s, introducing them Kenya's Tinga Tinga Tales.
"We established good rapport and spent time learning from each other, preparing units and sharing resources," says Lucy. "My knowledge on DP chemistry teaching and assessment has grown and I feel better equipped with resources for my teaching and learning."
Over in Junior School, Dorcas appreciated the application of agency at Junior School. "Since the enhanced PYP is centered on giving the students voice, choice and ownership of their learning, student agency is a major tenet. I got to observe and learn different ways implementing this."
Both teachers took to the Hyderabad campus and enjoyed local flora and fauna. They also visited the city, taking a moment to see Hyderabad's significant historical monuments, markets, and to taste the city's famous food.
The Academy looks forward to continuous interaction between our schools, and thanks those teachers and others who make the exchanges memorable and enjoyable experiences for everyone involved. Lucy says, "I trust that the relationships we have established will enable us continue to communicate and collaborate for the benefit of our students."
Written by Ajay Sundaram
Reposted from the Hyderabad site. 
To find out about the experiences of the Hyderabad teachers in Mombasa, read here.