Students win 2019 East African games for swimming
On 15 August, two students from AKA Mombasa travelled to Arusha, Tanzania to represent the Academy and Kenya in the Federation of East Africa Secondary Schools Sports Associations (FEASSA) games for swimming.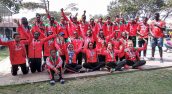 The Kenya national team at the East African games.The competitions involved all major sports, such as swimming, volleyball, football and more with schools from Kenya, Burundi, Uganda, Tanzania, Zanzibar and Rwanda competing. From the Academy, Shekila Athman, DP2, won gold in the 50 metre freestyle, and Aheer Chatterjee, DP1, won two gold medals in both the 100 metre backstroke and 200 metre individual medley. Aheer also won a silver medal in the 100 metre freestyle. 
Both students, who were a part of the Kenyan team, became the winners of the 2019 East African games for the swimming category and were both ranked first.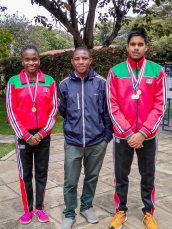 Shekila Athman (far left), Marcelino Ngalioma (middle), the students' swimming coach, and Aheer Chatterjee (far right) at the East African games."It was an eye-opening experience for me because I was able to join the national Kenyan team to represent the country in the East African games that were held in Arusha," Shekila said. "With a lot of support from my family, friends and my coaches, I was able to scoop a gold medal in the only event that I had qualified for, which was quite difficult for me to believe, because I was not acclimated to the climate there. Although it made me realise that you can never always get what you want, it's all in the mindset. If you have the right mindset from the start, then that would be the case. I still want to continue with swimming even in university as a sport and would like to represent my country out there." 
Both Shekila and Aheer will compete in the upcoming African games, while will be held in Egypt.
About FEASSSA games: The FEASSSA games (East African secondary school games) is the highest competition for secondary school students in East Africa. The games, a government tournament, brings all top athletes from all secondary schools in East Africa. In Kenya, the road to the East African games starts with various tournaments such as Sub-county, County, Regional and Nationals before reaching East Africa.