Students showcase attributes of Junior School at Year 1 Open House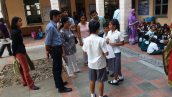 SRC representatives take prospective parents on Academy tour.This week at the Academy marks the beginning of the ongoing Year 1 assessments for students starting in August 2016. Selecting a school for one's child is one of the most difficult and important decisions that a parent has to make. As prospective parents might be wondering if AKA, Mombasa is the right place for their children, we would like to remind them of the performances at the Year 1 Open House held on 05 February, 2016 and the attributes of holistic learning, leadership, and diversity reflected in the student speeches.
At the Year 1 Open House, a warm start to the ceremony enveloped the hearts of the audience! Addressing prospective parents, Junior School students sang the joyful 'Welcome to AKAM' song with wide smiles across their faces. The ceremony was led and conducted entirely by the Student Representative Council (SRC) that pleasantly surprised the audience with their eloquent speeches.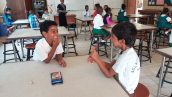 AKA, Mombasa students share classroom experiences with prospective students.SRC representatives explained the emphasis that the Academy places on knowledge, also referring to the school logo that depicts an open book. They gave specific examples of learning through their units of inquiry such as leadership and marketing to reflect the transdisciplinarity of the programme at the school, supporting it with references to various field trips.
Additionally, teamwork is one of the most important aspects of 21st century learning. The SRC representatives described how students at the Junior School engage in teamwork through various artistic productions, competitions, concerts, exhibitions, and sports activities.These events provide opportunities for students to work together in order to create something powerful. At the annual Zawadi Bazaar in December 2015 for example, one group of students collectively raised an impressive amount of money, which will be used for future service learning and charity projects.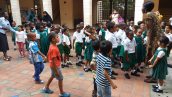 Prospective students gather at the Junior School courtyard for a classroom tour.Furthermore, the SRC Expressions Representatives also spoke about the Celebration of Festivals Assembly that was centered on the theme of lights to celebrate Christmas, Diwali, and Eid. The event showcased dances and recitals from three different religious and cultural traditions that reflected the diversity of the Academy and the larger Mombasa community as well. They gave the audience a sneak peek of Diwali celebrations by dancing to a melodic Indian song in richly colored costumes.
"Talent has to be taught and nurtured," stated the Junior School Principal, Ms. Isla Gordon, in her concluding speech. The Year 1 Open House was a thorough reflection of the diverse ways in which the Junior School nurtures its immensely talented student body. Beyond the academic and extra-curricular aspects of the school however, it is the community feel of the school that creates a warm and inviting environment conducive to learning.
By Haifa Badi-Uz-Zaman