Students Reflect on Mombasa International Show
More than 20 students from the Young Farmers Club and Book Club participated in the Mombasa International Show from 28 August to 31 August. The students were involved in various competitions including the stand exhibits section, in which they won the overall prize and were presented with a trophy from Cabinet Secretary of Agriculture and Irrigation Mwangi Kiunjuri. The students also won six first positions and three second positions in various categories. Two year 10 students, Victoria Stanley and Tessa Tyaba, share their reflections of the competition and their wins.
"We decided to do something on the environment since I am very passionate about it and this is what [drove] me into this project as well as my personal project. We were able to present our project at the exhibition and ranked first in the local handicraft category.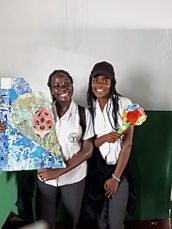 Tessa Tyaba (left) and Victoria Stanley (right)Our project was linked to the theme of the show, which was dealing with innovation and trade in agriculture. The project helped me improve my thinking skills since I had to think of a problem and a solution that was linked to the theme of this year's show. Additionally, I improved my communication and collaboration skills since I worked with a peer in coming up with the product. I also had the opportunity to express my idea and present the project to the teachers and judges. Furthermore, I was able to interact with many people from different schools during the show, which helped me in my social skills. Additionally, it was a big opportunity for me since I was recorded by Baraka FM (a local radio station) on my expectations of the show as well as what exactly inspires me in terms of agriculture. This made me feel proud and it helped me in my communication skills as well." – Victoria Stanley
"Other than being able to take part in such an enriching competition, we were able to learn from the different traders and departments around the coastal region from the different stalls we visited. The most eye-catching were the marine stalls, the sunflower fields as well as the Technical University of Mombasa stall.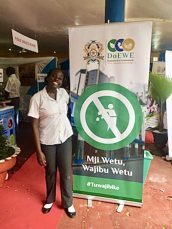 Tessa TyabaFortunately, I had the opportunity to visit the Department of Environment, Waste Management and Energy and carry out a short interview on how they reuse waste materials around the coastal region to reduce the amount of pollution in Mombasa. This enabled me to obtain useful information from experts that related to my personal project. In conclusion, these few days were very educational and enjoyable. I had a great experience since it was my first time taking part in this competition. I was able to get an in-depth understanding of the importance of agriculture to the coastal people, and how they are using technological advancements and merging it with agriculture for trade purposes." – Tessa Tyaba