Students participate in inter-school chess competition
Five students from AKA Mombasa participated in an inter-school chess competition on 5 October at Greenwood Groove Academy.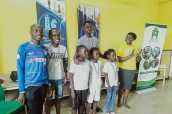 AKA Mombasa students receiving their medals for the inter-school chess competition with their supervisor, Jerry Kembo (far left).Seven schools participated in the competition, with AKA Mombasa being ranked fourth, with 15 out of 33 points. Elliana Maina, year 3, ranked first overall in her category; Ethan Maina, year 4, ranked third overall in his category; Joe Mutua, year 9, ranked first in his category; Shayne Shah, year 9, ranked third in his category; and Ryan Maina, year 10, ranked second in his position. 
We congratulate the students who participated in this competition and wish them the best of luck in future chess competitions!