Students participate in Design Bootcamp
From 6-15 May, 2019 three DP1 students, Laiqa Walli, Margaret Makoba and Bilal Adamjee, and Julius Menzah, a CAS coordinator at the Academy, participated in a Design Bootcamp held at AKA Mombasa. The programme was organised by the Middlebury Institute of International Studies (MIIS), in partnership with Aga Khan Foundation (AKF) and consisted of participants from the Academy, MIIS, AKF and the Aga Khan Development Network (AKDN). The participants worked on design approaches such as human-centred design, appreciative inquiry, stakeholder analysis and theory of change. As part of the training they will receive, the participants will use these approaches to design innovative initiatives intended to improve quality of life in AKDN core geographies. Here, we learn about one of our students' experiences, Bilal Adamjee, during the 10-day programme.
"The Design Bootcamp by Aga Khan Foundation and Middlebury Institute of International Studies (MIIS) has been quite the rollercoaster of a variety of skill-building experiences! This was my first and probably greatest immersion in design thinking and other unique abilities. This programme introduced to me what is known as human-centred design. This involves steps like empathy, synthesis, ideation, etc. Other interesting skills I developed through this programme were stakeholders analysis, theory of change, appreciative inquiry and professional humility. On a simpler note, these were a variety of communication and collaborative skills I gained that can help me engage with communities more effectively for cooperative solutions.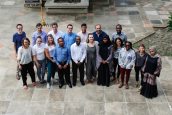 Bilal Adamjee (top row, third from the right), Margaret Makoba (bottom row, third from the right), Laiqa Walli (bottom row, fourth from the right) and Julius Menzah (bottom row, fifth from the left) participated in a Design Bootcamp held at the Academy.Among others, I now have a deeper understanding of attributes like empathy, especially the empathy required when working with communities for innovative social change. Together, with learning these skills theoretically, I had the chance to apply them in several field visits to AKDN partners. I also had the opportunity to design an initiative for local stakeholders and pitch it to AKF. Teamed up with a local AKF director and two Middlebury graduate students, we designed 'SufuriaNdogo', a system that connects existing youth hubs with youth groups from marginalised areas in Mombasa to give them access to social and economic opportunities. 
The plethora of design thinking skills I learned, together with their application in the real world, has really stretched my brain to realise there are more dimensions to community-based service than I originally thought. 
I hope to apply these skills in my learning and in my CAS commitments for the rest of my Diploma Programme. I primarily want to focus on empathy and the iterative process of solution creation as the Secretary General of our East African Model United Nations (EAMUN) team and with my CAS group's, Funza, local partnerships.   
As much as design thinking can help me in creating better solutions in CAS and in the classroom, I believe the experiences I have gained in this programme will add flair to possible careers I want to have, such as business management, entrepreneurship and social advocacy. This bootcamp has truly redefined 'Design' for me, and I hope more students at the Academy experience it in the coming years!"