Students partake in Young Scientists Kenya exhibition over the summer
From July 4 to 6, two year 10 boys, Omar Mwakuluzo and Adnan Bhanji, from the Academy attended the Young Scientists Kenya (YSK) exhibition in Nairobi, along with Wilfred Masese, a Physics teacher at the Academy and the students' project supervisor. YSK is a programme aimed at encouraging secondary school students to present their skills in science and STEM-related projects. For a period of six months, Omar and Adnan worked on their project, SAFETAP, which is a small device a person can tap when their life is in danger. By using this device when in need, an alert will then be sent to nearby authorities who can respond immediately. Here, Wilfred, Omar and Adnan reflect on their experience before and during the exhibition.
''YSK was a really good experience because I learnt a lot and also developed in many different ways from the beginning to the end of the process. Before coming up with the project, my partner and I had to use a lot of thinking skills to come up with the best idea that solves a major problem in our society. This involved both creative and critical thinking, and in the end, we were able to come up with the idea of SAFETAP, which aims to solve the problem of insecurity in Kenya.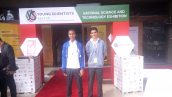 Omar Mwakuluzo (left) and Adnan Bhanji (right) at YSK.When we were making our product, I had to use a lot of collaboration skills because apart from my partner who I was working with, we had to ask for help from some people who were familiar with the kind of things we were working on so they could help us along the process. These were people who were very new to me and I ended up working very well with them toward the end of the process in order for us to achieve our goal. I also demonstrated a lot of effective self-management skills because, at the very beginning of the process, our goal looked very impossible to achieve considering the fact that our skill level in this particular field of study was very low. However, I motivated myself as well as my partner.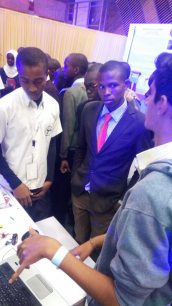 Omar and Adnan presenting their project at YSK.After creating the product, the pressure I had when thinking that the project was impossible all diminished and what remained was the pressure to present in front of a large audience. Considering this was my first time being involved in a science and technology exhibition, it was really nerve-wracking. During the presentations, we were given some time to walk around the place to see and listen to other people's project presentations. It was one of the best experiences in this journey because I met a lot of new people who I became friends with.
When we were making our product, our eyes were on the first prize. However, this changed even before we went for the exhibitions; we started looking more into creating a meaningful solution to society, which can be used for a long time. It is not very bad that we did not win, considering the fact that it was my first time being involved in such a big event. I grew a lot in different areas and I believe apart from other prizes I got, the experience was the best possible thing I gained from this journey. My level of confidence increased a lot, making me confident enough to run for a class representative position where I ended up being elected as the action representative for my grade. So even if we didn't win the overall prizes for the exhibitions, to me it still feels like a win.'' – Omar 
''I attended the Young Scientists Kenya fair this year, which was held in Nairobi. Our project was mainly about coming up with a solution to reduce rates of insecurity in Kenya through a device we made, which is called SAFETAP. The experience was amazing because I learnt a lot I did not know about, such as the C++ coding language. It was not easy to come up with this project because we had to think hard and use our skills so we could make a project that not only works but solves a major issue in our community. We had to think creatively and critically, and at the end of it all, we were able to make SAFETAP. The product we made is not something we usually do in school, therefore, I had to work with other people as a team, such as experts who helped us understand the C++ coding language. I also used my communication skills and was open-minded because that helped move our project further.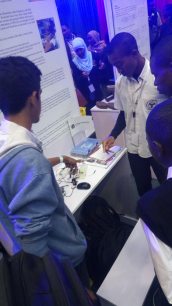 Adnan and Omar at the YSK exhibition.I was personally very dedicated and committed to this project and I would always attend the classes we had and the extra classes we had too. When we just decided to come up with this project, we did not think we were going to achieve our goal of creating SAFETAP because our knowledge in that area is pretty low. But then my partner really motivated me to do more, even if we knew we will not be able to do it. To overcome this challenge we had to be dedicated and committed, which we were because we used our free time for our project.
I learnt a lot throughout this journey, but the main thing I learnt was to never give up. The challenges we faced were just too many, but that did not stop us from creating SAFETAP no matter what happened. It is very disappointing that we worked this hard and did not achieve the first prize, but the most important thing is that I got to learn. Of course, I would be happy if I came in the top three, but having have come fourth isn't going to demotivate me. In fact, it is going to make me want to keep trying again next year to win and come 1st position or fall in the top 3 positions.'' – Adnan 
''At the age of 15 it is very rare to find such young, caring people around the world, but Omar and Adnan are exceptional. These two students had an urge to demonstrate their leadership by ensuring that everyone enjoys their safety through their project for YSK. The students were clearly practising the mission and vision of the school and the IB learner profile. They used knowledge from various disciplines to arrive at a complete product.
Besides normal school routines, the students had to use some of their free time to learn the coding language through a class, which I was also apart of.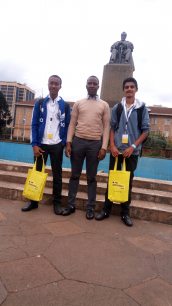 Omar (far left), Wilfred (middle) and Adnan (far right) in Nairobi for the YSK exhibition.Most often they would teach me some of their findings and we tried new challenges together, failed together, reflected together and rose together. We developed effective skills in communication, self-management, collaboration, reflection and research. Our relationships became stronger because we learnt about our other life outside the classroom.
When our model failed during one of the meetings, Omar said, 'Sir, we are not losing hope. We must deliver a solution to this problem. My aim is not winning the top prize but to provide a lasting solution to my community and the world. I am excited that this is going to happen soon.' This statement made me reflect upon how the learning experiences through IB transformed the thinking of these young people. I saw the true meaning of educating a whole child through the mind, body and spirit. I am very excited by the contribution of these students to the world. The skills developed by these students are invaluable and can transcend the limits of time and space. This was one of my best experiences in this Academy, and as a person, I learnt more than I thought. I look forward to another challenge that will enrich my experience as a patron of the YSK club.'' – Wilfred