Students march against human trafficking
On Saturday, 27 October, students from the Aga Khan Academy Mombasa joined citizens of Mombasa for the Walk for Freedom. The Walk emphasizes the need to fight against human trafficking by creating awareness and educating the community about this issue. Here, Jordan Ssewakiryanga (DP1), one of the organizers of the event, reflects on this year's Walk.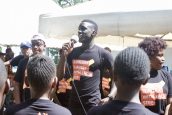 Jordan Ssewakiryanga addressing the crowd of people before the Walk for Freedom."I helped and oversaw the organization of the 2018 Walk for Freedom in Mombasa. This is an A21 made event, which is a nonprofit working to fight against human trafficking. Roughly 132 people attended the Walk of Freedom with almost 40 of them being from the Academy. As the director of The Generation of Freedom (TGOF) for the Academy, I had a lot of responsibilities in the regards to the tasks I had to complete on the day of the Walk.
Firstly, I had to organize the venue for the event with the help of my TGOF core team. Secondly, I had to coordinate transport from the Academy to the venue of the Walk, which was Treasury Square. Lastly, I had to delegate responsibilities to all the members of my core team, such as crowd controlling, vlogging, giving out flyers and handling registration. Personally, the role I chose to participate in was handing out flyers because it provided me with the opportunity to interact with multiple people on the street. We handed out well over 100 flyers and I got the opportunity to talk to many people about TGOF and human trafficking in Mombasa.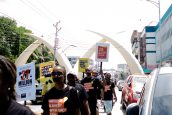 Crowd of people marching for the Walk for Freedom through the streets of Mombasa.During the Walk for Freedom, we faced two major challenges. The first was lateness. The external core team helping us organize the Walk arrived late and so did the police officer who oversaw providing security for the event. Secondly, people were not arriving at all to the Walk. More than 30 people who signed up for the event did not show up due to various reasons/events that were happening on that day.
This event was overall a very enriching experience and allowed me to move outside my comfort zone and interact with many people. It was also a great leadership opportunity for me and allowed me to truly understand what it takes to be an efficient leader. If I were to redo this event I would have communicated more efficiently with my contacts to prevent lateness to the event and allow the event to have been set up at an earlier time or date than it actually did."

Learn more about the Walk for Freedom here.