Students launch iSEAyou challenge
Students at the Aga Khan Academy Mombasa have launched the 'iSEAyou challenge', which aims to motivate students to become environmentally conscious and work towards improving the state of the environment.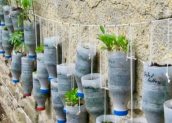 Growing plants in plastic bottles."This initiative seeks to promote a positive attitude towards environmental sustainability so that people are more aware of their surroundings," Cinzia Torriani, a Diploma Programme student, says about the importance of the competition. "The challenges will be an opportunity for students to recycle waste to make something useful."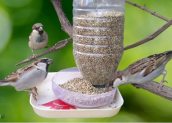 A bird feeder made out of a plastic bottle.In these simple, creative and fun activities, which will run over the next few weeks, students will be required to make use of recyclable materials such as plastic bottles, empty container, tins, used milk cartons, and more to grow mint, basil, parsley, coriander or a plant of their choice and to make a bird feeder for the first and second challenge respectively. The third challenge will also involve recycling products such as newspapers, cds, plastic bottles and old glass pieces to make items such as cutlery holders, pencil pouches, phone cases and more. The fourth challenge will require individuals to make creative art that can be displayed around the house.
iSEAyou is a community service group founded by Cinzia Torriani and Class of 2020 alumna Sanaa Suhayl who have a shared passion and interest in environmental conservation. "The world today is looking at an ocean whose fish population and aquatic life is rapidly degrading," Cinzia says. "The state of our oceans is almost at a point of irreversibility, which not only affects the environment in regard to disruption of food chains and destruction of habitats due to pollution, but also the economic stability of thousands of people across the globe who depend on aquatic life as a food source. iSEAyou aims to promote ecological and economic sustainable development in the community."
Now with a team of 15 students, they hope to grow even more by joining forces with other environmental activists and enthusiasts with a common goal of making a difference in the environment and community as a whole.