Students honour World Cerebral Palsy Day
AKA Mombasa's STEP UP Council organised events from 30-31 October at the Academy to celebrate and honour World Cerebral Palsy Day.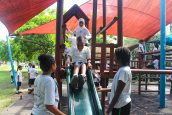 JS SRC with a student from Angels on Earth.World Cerebral Palsy Day falls on 6 October, however, due to the Academy being closed for its half-term break, the STEP UP Council decided to commemorate the day once school resumed. To do so, the Academy's Junior School Student Representative Council partnered with the STEP UP Council to bring students from Angels on Earth, Centre for Children with Special Needs, who have cerebral palsy, to the Academy on 30 October. Once the students arrived, the JS SRC interacted with them, gave them a tour of the campus and played with them at the JS playground.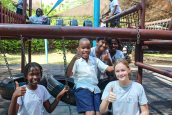 JS students with a student from Angels on Earth.For the Academy's Senior School, the STEP UP Council recognised World Cerebral Palsy Day on 31 October at the SS Assembly. During the Assembly, the STEP UP Council emphasised the need to raise awareness about the stigma surrounding individuals with cerebral palsy, and with other disabilities. 
"Through the Assembly, we'd like to celebrate the achievements and lives of those with cerebral palsy in our own Mombasa community," said Rania Janmohamed, one of the vice chairpersons on the STEP UP Council. "We wish to raise awareness of cerebral palsy and the issues that are faced at a local, national and international level to create a more inclusive society at the Academy and in Mombasa."
In addition to the previous days' events and the Assembly, green bracelets, which is the official colour for cerebral palsy, were also available for purchase on 31 October. The bracelets were made by a member of the STEP UP Council, Aisha Abdulreman, who is an entrepreneur that has cerebral palsy.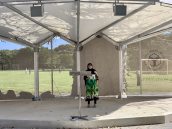 Aisha Abdulreman speaking at SS Assembly about World Cerebral Palsy Day."It's important to have a day for cerebral palsy and for students to understand the importance because people who have cerebral palsy are like other people too," Aisha said. "We (people with cerebral palsy) are like them (people without it). The only difference is that we have this problem, and it's not a problem, it's not a disease. It just naturally happened by God so we have to accept it." 
About STEP UP Council:
STEP UP Council was created in 2017 and consists of individuals from AKA Mombasa and the Mombasa community who have a range of abilities. The aim of the group is to foster unique ability awareness and to make the Academy's community and the local community more inclusive of everyone.