Students hold online gaming event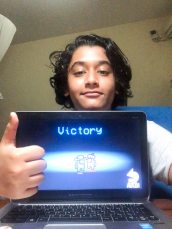 Year 8 student, Aiden Moolraj participating in the event.On 22 October 2020, E-Sports, a virtual enrichment founded by Diploma Programme (DP) 2 students Arshman Balouch and Hisham Ladha, held an online gaming event dubbed 'Among Us and Chill', where students played against each other in a video game tournament. The enrichment's goal is to provide a platform for gaming enthusiasts at the Academy to build meaningful relationships and share their skills with each other. It also plans to give students a chance to compete in various local and international championships as well as the opportunity to be enlisted by major gaming teams in the scene. 
The two-hour gaming event, which had over 45 Academy students and alumni, saw participants play the multilayer social deduction game 'Among Us', which takes place in a space-themed setting. The game assigns players either the role of a crewmate or an imposter. The job of the imposters is to eliminate the crew completely or sabotage the ship without getting ejected whereas the crewmates' task is to find out who the imposters are, eventually voting them off the ship. The event was streamed live on Youtube for those who were unable to attend.
The rise of online gaming, propelled by famous streaming and video platforms like Youtube and Twitch and the availability of multiple gaming consoles like PlayStation and Xbox, is becoming increasingly popular among students. This is what prompted Arshman and Hisham to start E-Sports at the Academy.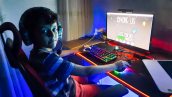 Year 6 student, Ayman Ladha participating in the event."Having realised that there are many student gamers at the Academy, we decided to provide a platform that gives necessary guidance for responsible gaming so that students can grow in a positive way," Hisham said.
Both Arshman and Hisham have actively been involved in the Kenyan Esports scene. They ranked as the best Kenyan duo Fortnite players at the 2019 Summer Edition Fortnite Kenya Tournament held in Nairobi. Since then, Hisham has proceeded to FIFA and Call of Duty where he has participated in various international tournaments and is currently working on creating his own game through code. Arshman has started his own Esports team called 'Eaze Fn' that competitively plays Fortnite and is ranked second in Kenya. He has also managed to secure a sponsorship deal with Switch Games Limited, a gaming shop based in Nairobi. 
Ultimately, the E-Sports team, which also includes Media Director - Andrew Kamami, and Gaming Manager - Mark Oundo, hopes to partake in more tournaments where students can continue to showcase their amazing gaming skills. They also hope to continue educating members on the importance of social responsibility in online gaming.