Students advance in debate tournament
Students from the Aga Khan Academy Mombasa participated in a debate tournament on 16 March where they won and advanced to the semi-finals.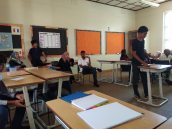 The recent debate, held at Lion's Club, involved the Academy and Kajembe High School. The students involved include; Furzon Atobekova (year 9), Wendo Otieno (year 10), Abdulhaleem Mabisi (DP2) and Nawaf Atrash (year 10).
Earlier this month, on 9 March, the Academy hosted and participated in a debate competition against three schools; Makande Girls Secondary School, Light International School and Jaffrey Academy, Mombasa. The students who participated in this included; Aly Jassani (year 10), Kieran Viehweber (year 10), Nawaf Atrash (year 10), Joshua Luwemba (year 10), Jai Morjaria (year 10) and Muhammad Kanji (year 8).
"For some students this was a first try at debating and for some teachers a first try at adjudicating," said Ric Faulkner, one of the debate supervisors at the Academy. "But by the end of the day, confidence had risen in everyone."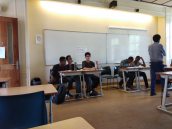 This Saturday, on 23 March, the Academy students will compete against Abu Hureira Academy.