Student teaches English at local school over summer holiday
Over the summer, Reuben Monyo, year 8, volunteered at a local school where he taught English to students. Here, we take a look at Reuben's experience.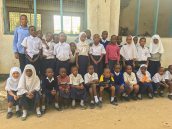 Reuben Monyo, year 8, (top far left) with the students he taught."During my summer holiday I had the opportunity to teach in a nearby government school called Ushindi Primary School.
I was a teacher to a grade 3 class and taught them English since I was comfortable with the language. On my first few days I hadn't yet gotten the teaching quality, but as the days passed, I managed to bond with the students. Every morning I would wake up with joy and excitement to meet with the students. This experience was once in a lifetime. I managed to teach young children and they managed to teach me about my myself things I never knew I had.
I faced many challenges, one of the greatest ones were maturity. Of course the students were not able to be quiet the whole day, they're kids, so keeping them quiet was very hard. Besides that, there were language barriers. Since they were kids living in Kiswahili-speaking homes, they were not very good in English, so I had to speak in Kiswahili. But the problem was that I'm not the best Kiswahili speaker so I had to step up my game and practice my Kiswahili.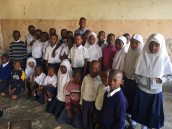 Rebuen (top middle) with the students of Ushindi Primary School.I have to say, teaching there was once in a lifetime, as I said before. I learnt new skills and managed to gain more confidence. This reflection was to acknowledge the teachers to let a 13-year-old teach a class. I believe any one can do any thing. This is the beginning of a new era." -Reuben Monyo