Student Starts Two Companies Through LaunchX
DP2 student Devesh Datta traveled to the USA this past summer for a program called LaunchX and was exposed to the world of entrepreneurship, leading him to start two companies. LaunchX, a five week summer program, occurs every year at Massachusetts Institute of Technology, Northwestern University and University of Pennsylvania. Approximately 12 per cent of applicants are accepted into the program, which allows students an opportunity to start their own company and gain an insight into what it means to have your own business. Here, Devesh recaps his experiences and what he accomplished this past summer.
I wanted to do something different this past summer and through spending hours and hours on the Internet searching for summer programs, I found LaunchX and was hooked onto the idea of breeding entrepreneurship into young minds. I was accepted into the Northwestern University session for the LaunchX program.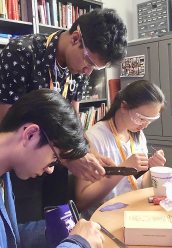 Devesh Datta (second to left) at Northwestern UniversityI want to major in economics while I'm in university and potentially become an entrepreneur. Through LaunchX, I actually became an entrepreneur and started two companies. The first company, which I co-founded, is Pyronix. This company focuses on reheating drinks in a portable and convenient manner through the use of resistive heating in a sleeve. I also got approached to become the director of Stellar Corp, which is a website development company offering high-quality websites at cheap prices. One of my greatest achievements happened quite recently when Pyronix became a genuine limited liability company in the state of Delaware and I received a $5,000 investment to continue working on the company to improve the product and start production.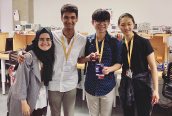 Devesh Datta (second to left)As an international student, I had trouble with some of the analogies presented by the lecturers as I was not completely adverse to them. Another problem I faced was with the level of difficulty in the program. I had to actually sign a document saying that I understood how difficult the program would be, which it was. I slept at 1.00 am almost every night and woke up at 7.00 am to go to class. It was extremely challenging and a lot of resilience was needed to finish the program.
Despite the obstacles I faced, I was able to improve myself through various ways. I gained the ability of problem-solving by finding solutions to everyday problems and making a business out of it. I also learned how to network with people who would be resourceful to me in the future. I believe this program will help prove to the universities I apply to that I have a real passion for entrepreneurship as well as the ability to innovate. Secondly, the connections and skills I learned will be extremely helpful in my everyday life as I learned lessons and had amazing experiences.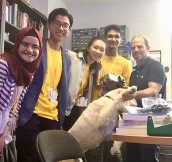 Devesh Datta (second to right)According to the Academy's vision, "The true test is the ability of students and graduates to engage with what they do not know and to work out a solution." I believe this aligns with what I created this summer as I ventured into the unknown and came out with a solution that could help many people.
I believe I found a lot of myself this summer. Not only did I learn about entrepreneurship, I learned about myself and realised I love finding solutions and working on real-life applicable problems.
By Devesh Datta