Student Reflects on Growth of Personal Project
Almost a year since its establishment, DP 1 student Ziyaan Virji's personal project, Accessible and Affordable Sanitation for Women (AASW), has spread its reach from Tanzania to Mombasa and will eventually go other parts of the world in the future. This past summer, Ziyaan worked with various organizations, including some from the media, to raise awareness about his personal project and expand his initiative to provide more information on women's reproductive health to numerous people.
Since you began your personal project, what progress have you made, especially from this past summer?
My personal project involves giving 22 girls access to menstrual hygiene for the next six months in the Moshi region of Tanzania. Since then I've made huge progress – I came back to Mombasa and started a service group last year. We collaborated with Tunaweza Women with Disabilities (Tunaweza PWD) and launched a new reusable package that now lasts for up to three years. We also redefined our model of approach through a four-session model in which we have stitching and educational workshops allowing the target audience to stitch their own reusable packages, as well as have a basic reproductive health education. During this summer, I also launched a Mwanza and Dar es salaam team. Now, we have three teams in Mombasa, Mwanza and Dar es salaam whose first target audience is working with 9, 25 and 150 girls respectively. During this summer, the Dar es salaam team I launched hosted a dinner gala to spread awareness about the issue, our group and to get future help.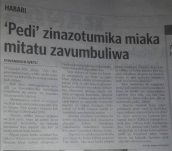 Story in Habari Leo newspaper featuring Ziyaan Virji's personal project.I also represented the school in four newspapers such as the Daily News, Tanzania Daima, Mtanzania and Habari Leo with the project.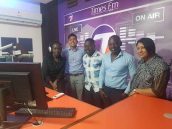 Ziyaan Virji (second to the left) with Times FM, Tanzania's national radio show.I was also given an opportunity to have an interview on Times FM, Tanzania's national radio show, to talk about my project and the issue. I used all of these media platforms as opportunities to spread awareness about AASW and females' access to menstrual hygiene in East Africa. We also aim to expand globally as I'm in the process of launching two teams in the UAE and in London. 
What have been some challenges you have faced while working on this project?
Firstly, a huge challenge I've been facing is balancing academic work and other commitments with the work of AASW. Running a project at this scale requires a lot of time and commitment and in the initial stages it was quite a process to find the balance. However, a skill I've acquired during my time in school, especially when living away from my family, is time management, priority setting and being balanced, which is a part of the IB Learner Profile. I set deadlines for myself and give equitable amount of time for everything. From a very early age, my parents taught me the skill of setting priorities and understanding what's most important in life. I write down my goals, have a timetable and I really try my best to stay principled to them. With the fast-moving world, I agree it's important to focus on your studies and get a degree. However, I think what sets you apart from other candidates when applying for universities and jobs is what you do on the side. I'm very fortunate because what I do on the side is something I've become very passionate about and it serves the community I live in. 
Another challenge I face is the language barrier here. Living in East Africa, it has been really hard for me to address such a sensitive and "taboo" issue with me not being fluent in Swahili, the national language. However, I'm currently countering that challenge by taking Swahili classes in school.
What are you looking forward to while doing this project?
I'm really looking forward to bringing change in the community. Imagine being born in a family under the poverty line, not having proper access to basic needs and having your whole life controlled by your financial status. I care for change because I think women who don't have access to menstrual hygiene deserve having proper access to these fundamental basic needs that are not privileges but needs. These women are disregarded in their society and the social stigma they face has become a custom in the societies they live in. They have minimal opportunities to make a change in their life and I think that I, being so fortunate to have this opportunity to change the lives of my fellow sisters, can make a huge difference in the long term. 
How has the Academy helped you with your personal project?
The Academy has instilled the idea of service in me. It has magnified the norms and values my family and community always taught me about service by giving me so many platforms and opportunities to serve, be it through the residential service program or the other creativity, activity, service groups in the school.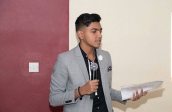 Ziyaan VirjiIt all started when the personal project offered to me at the Academy gave me the biggest platform to serve as well as learn. The IB Learner Profile of caring taught me to make a positive difference in the live of others, while the Approaches to Learning skills and the Aga Khan Curricular Strands have instilled a mindset in me of serving back to the community.
The Academy has also taught me a lot about the whole process of service, especially the idea of the service cycle and thinking sustainably when reaching out to communities. This knowledge guided me in creating my unique model of approach.  
You've started an enrichment this year
–

 why did you start this enrichment and what do you hope to accomplish through it?

I started the enrichment to involve the rest of my community at the Aga Khan Academy Mombasa in my project. I realized a lot of people have a willingness to serve, however, they are not given an opportunity. I'm hoping AASW creates a platform to serve, but also teaches the rest of the students about the service cycle and serving sustainably to then go out there and be "not the leaders of only tomorrow, but the leaders of today". 

The enrichment will also help AASW's short-term and long-term goals, with our first target audience being nine girls at an orphanage in Unity School. The AASW group will also carry out fundraisers, host different events and use various platforms to spread awareness about menstrual hygiene and breaking the social stigma and taboo surrounding this issue.

Click here to read more about Ziyaan's personal project. 

By Anusha Lalani