Student Reflection on the 22nd Annual MSMUN Conference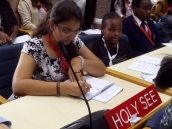 Year 9 student Tabreek Somani representing the Holy See at the MSMUN Conference in Nairobi.Model United Nations (MUN) was the beginning of a remarkable journey for me – one where I learnt a lot and discovered many talents within myself that I had never recognised before. MUN gives you a platform to be the leaders of tomorrow, think for the betterment of the world, and make the right decisions in your various delegations. It is a great way to develop your public speaking skills, commitment, critical thinking skills, and to excel in debate. 
This was my first-ever external Middle School MUN (MSMUN) conference – and it was a great experience. This being my second year in MUN gave me a lot more confidence, and experience in researching and debating. Our school represented three countries – Lithuania, the Holy See and Kiribati. I was the delegate of the Holy See for the Ecology committee. Being a delegate of the Holy See was a wonderful experience because we were the representatives of the Pope, of the Vatican nation. Our opinion greatly mattered in each committee in order to resolve issues, but since we were an observer nation, we couldn't vote. Not being able to vote as a nation was a slight disadvantage, but we had strong opinions for or against every resolution – backed up by the Pope's latest actions.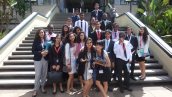 AKA, Mombasa students participate in the 22nd Annual MSMUN Conference.This MUN conference gave me great opportunities to meet new people and to get to know my schoolmates even better. I met many delegates from other schools, and we learnt a lot from each other. We had amazing cross-fire debates and all spoke for or against resolutions in order to state our opinions. This conference helped me gain a new experience, confidence to go up there and talk in front of many people, and memories that will last long.
For those interested in politics, MUN will give you the chance to delve deeper into the world of politics. To stand in the shoes of world leaders and make similar decisions to what they would have made with all considerations. I urge you all to go out and explore different things – and find a passion in something, something that you wouldn't get bored doing, and pursue it to further develop yourself. I found my passion in MUN, and it is such a fun learning platform for everyone who puts their heart into it.
-By Tabreek Somani, Year 9 (The Reporters)