Student organises medical camp for personal project
Seeing an increase in people with undiagnosed diabetes, hypertension and cataracts in her community and around Mombasa, Samia Juma, year 10, focused her personal project on hosting a medical camp this past summer that treated 1,064 people.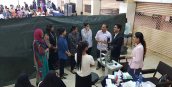 Samia Juma, year 10, (fourth from the left) meeting with the doctors at the medical camp she organised."I noticed that there's a lot of people who have issues with eye cataracts," Samia said. "My dad's friend from the mosque had gone blind in one eye and he was going blind in the other due to undiagnosed diabetes, which was causing his cataracts. So after I urged my dad to treat him, I realised there could be more people in Kenya suffering from the same thing."
Samia, whose father has hosted medical camps in the past, said she held a free medical camp on 22 July 2018 and was beyond surprised by the turnout of people in attendance.
"My goal was to treat 30 people, but I managed to exceed that goal by treating a total of 1,064 people," Samia said.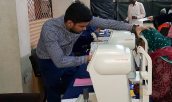 A volunteer doctor checking a patient's eyes at the medical camp.Samia said organising and preparing for the medical camp was challenging, but she was able to get through it with the generous support of people in her community.
"It all cost a lot of money," Samia said. "It cost me 400,000 KES and I managed to raise 200,000 by myself. Donors chipped in by donating small amounts of money, which got me the other 200,000, and I worked with doctors who gave me a subsidised cost for the surgeries. So 5,000 KES for normal surgeries, and 20,000 KES for laser, and then they also provided the glasses and medicines for free and they volunteered to do it, so I didn't have to pay them."
Although Samia understood the need for such a medical camp before she hosted one, Samia said she really saw the urgency during the camp for more services like this to be provided more frequently.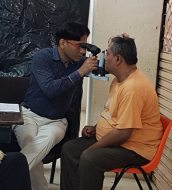 A volunteer doctor at the medical camp checking to see if a patient has glaucoma."It was surprising for me because I saw a baby being treated and a 104-year-old man being treated," Samia said. "To see these many people that need help and they can't get it, it moved me."
When the medical camp she hosted was finished, Samia said she wanted to extend her personal project to go beyond just holding one medical camp tackling diabetes, hypertension and cataracts.
"After my personal project was done, I held and participated in two other camps - one in November and December," Samia said. "We will be starting to carry out camps twice a year. I intended to do this so I could inspire others to do the same and bring this issue to light for the government because one of our goals for 2030 is to eradicate noncommunicable diseases, and diabetes and hypertension are one of them. I think by other people doing the same, it will help grow the healthcare system in the country, which is something we really need."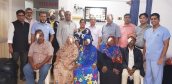 Samia (top row, seventh from the left) with patients and doctors from the medical camp post-surgery.Samia said the next medical camp she will host will be held sometime in June in the upcoming summer.
"I realised this is a really big issue in our country because, obviously, not everyone has access to healthcare and it's not always free," Samia said.
By Anusha Lalani