Student organises fashion show for albinism students
On Friday, 25 October, year 10 student Hilda Maichibu held a fashion show at the Academy for students with albinism as part of her personal project. The event was open to all and was designed to showcase the talent the students Hilda worked with. Here, we learn more about Hilda's project and her experience.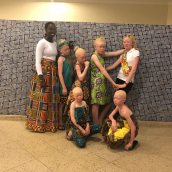 Hilda with the students she worked with."The name of my event was called the AL-BE-ME. I worked with children living with albinism to help them design clothes. The reason why I decided to do this was due to the fact that these young beautiful girls are not able to express themselves because of their skin condition. Seeing these girls as people that are able to design and create clothing was interesting to me, but I knew I had to do something about the fact that they are not provided with a platform to showcase their talent. 
Through this personal project, the girls were able to express themselves and how they feel about their culture by using African kente material to show their African culture. They also became very confident as I decided to arrange a big event for them that held over 250 people who paid to come see these girls model. We were able to raise over KES 60,000 from the fashion show, which will be used to help them manage their skin condition as they lack the money for that.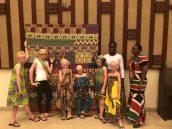 Hilda with the students she worked with.I was very delighted to see how many people were willing to pay to see these kids. I would love to continue sharing my knowledge with them so that they are able to be like other public figures they desire to be like, such as Thando Hopa, who is someone the girls look up to. Thando Hopa is a model, activist and lawyer in South Africa who has albinism. I really want to stand up for all of the people living with albinism and show them that there is a way to be a part of society and that it's possible for them to become who they want to be despite the fact that they have albinism."