Student holds virtual concert to support Early Childhood Development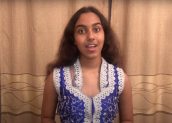 Azmat Amarshi hosting the virtual concert.Azmat Amarshi, a Year 10 student at the Academy in Mombasa held a virtual benefit concert to raise funds to support young kids at the Mombasa Children's Home with their nursery education.
The concert was a part of Azmat's Middle Years Programme personal project, which advocates for Early Childhood Development (ECD). It featured music and dance performances by AKA Mombasa students.
According to Azmat, the initiative was inspired by the vision of His Highness the Aga Khan which focuses on the importance of a high-quality education that prepares young people to lead and enact positive change in the world they inhabit.
"His Highness always talks about the importance of education," Azmat said. "If we have access to good education then we should make the most of it. Learning is a life-long process and although it can be done at any time or age, it is important that it starts at a very young age."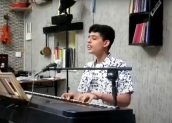 Year 9 sudent, Ayaan Allarakhia, performing at the online concert.The fundraiser was a huge success exceeding its pre-set goal of KES 36,000 having raised KES 50,117. Expressing her gratitude, Azmat said: "I really appreciate all the support I got from everyone. I really think I managed to meet the aims and expectations of this project."
Azmat now hopes to continue with this initiative to raise even more awareness about the importance of Early Childhood Development. "ECD is not only about the education of a child, but the care, attention and love that a child receives," Azmat said. "While the child is still young, the brain develops to become healthy and mature for adulthood. This is important for problem solving or processing complex information. Happy babies lead to excellent growth and brain development."