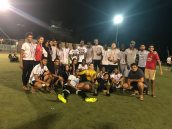 This years football league championsOn Thursday, 7 December, the Student Representative Council (SRC) Football league that involved the DP1 versus DP2 and the Year 10 versus Year 9 along with the staff team came to an end.
The SRC Football League aims to bring the student body together through football. This popular sport engages students and teachers together on a weekly basis and creates a space where healthy competition thrives. This year's games have demonstrated that the power of team work and hard work will take a team beyond expectation.
Alqaim Lalani, a DP1 and the Finance and Events Secretary of the SRC, said "[The aim is] to bring about a sense of healthy competition between year levels and evoke a sense of year level spirit. Through competition, students build lasting bonds that transcend the astroturf."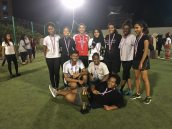 Members of the DP2 teamsThe finals in both the boy's and girl's teams, involved the Year 10 versus the DP2 team. In the girl's match, there was immense display of skill and dedication from each team. The match went into penalties resulting in a win for the DP2 team. The DP2 boys team also took the win against the Year 10 boys team with a final score of 2-1.
 "This terms games have been very impactful in creating bonds and students have already started preparing for next year's league so I reckon they are very excited," said Lalani.