Mwanapwani Said: Inspired to make a difference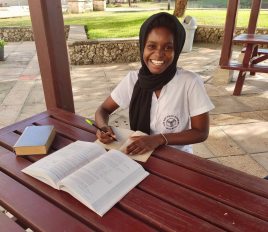 Year 10 student Mwanapwani Said, who comes from Msambweni in Kwale County, joined the Aga Khan Academy Mombasa in 2017 on a full scholarship through the Talent Identification Programme (TID). This programme is developed in line with the Academy's vision to provide exceptional students with an international-standard education and leadership opportunities, regardless of their ability to pay.
When she first received the news that she had been accepted to the Academy, Mwanapwani was elated and thankful. She was excited about studying under the Academy's unique and holistic curriculum because she knew it was going to be a life-changing opportunity that would open many doors for her.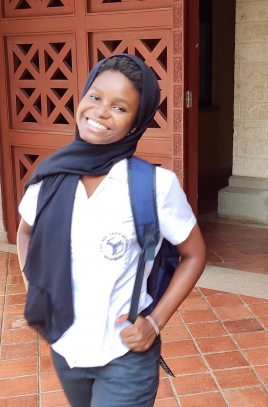 "I felt so grateful about receiving a full scholarship because it greatly reduced my financial burden. I became more driven than ever to create a fully rewarding experience for myself," Mwanapwani said.
Having been at the Academy for nearly four years now, Mwanapwani has availed herself of every opportunity to strive for the better. Her growth has been reflected in academics as well as sports, where she has picked up a passion for football. In addition, being selected to participate in the Exchange Programme with AKA Hyderabad exposed her to a new culture, one that enabled her to gain an understanding of her identity and values whilst appreciating the varying perspectives of others.
Commenting on how the Academy has shaped her outlook on life, Mwanapwani stated: "The Academy has changed me for the better as I now know more about myself. Learning to have a pluralistic approach has taught me to be respectful of the opinions and values of others. I have also learnt to work well with others because I believe great things can be achieved when we work together and I feel like this is an important aspect that will help me in the future."
"Mwanapwani is a very cheerful and conscious student. She is upbeat about life and hardly sees challenges as hurdles, but rather as trophies on her way up. Having been selected from TID, she has proved her mettle over the years in her Middle Years Programme. She is all-rounded, self-driven and radiates an aura of confidence around her peers. I consider myself fortunate to be around this positive personality," said Head of Residential Life Benson Wafula about Mwanapwani.
An aspiring health professional, Mwanapwani's vision is crystal clear. She is duty-bound to make a difference.
"I feel like I have been prepared for the real world, to be mindful of others and to give back. I want to work hand in hand with members of my community to make a change in society."