Alqaim Lalani (Class of 2019): The importance of mentoring and positively contributing to the community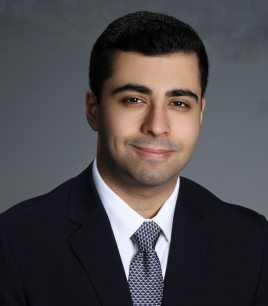 Although it has been a few years since he graduated from the Aga Khan Academy Mombasa, Alqaim Lalani, Class of 2019, says his years at the Academy had a major bearing on his academic career and strongly influenced his outlook on life. Now, as a graduate of Columbia University in New York, Alqaim is giving back to the Aga Khan Academies community that he says shaped his life and gave him so much.
Originally from Tanzania, Alqaim was actively involved in the Academy's community. As a dorm captain in the residential programme, he learnt time-management skills, maturity and developed strong work ethics. He also gained a passion for positively contributing to his communities, which could be seen in the social enterprise he founded as a student called "Tumaini la Maisha Cancer Initiative", which supports economically disadvantaged children suffering from cancer to raise money from crafts they make to subsidise their own care. His efforts gained widespread recognition in Tanzania, where he was named one of the 'Most Influential Young Tanzanians' for his achievements in social enterprise and philanthropy.  
However, upon entering university, Alqaim discovered a new passion: mentoring students during their university application process. Since he began his undergraduate studies in 2019, Alqaim mentored International Baccalaureate Diploma Programme 1 and 2 Academies students, who he believes "are at a very critical stage in their lives," because they are at the juncture of shifting from school to university.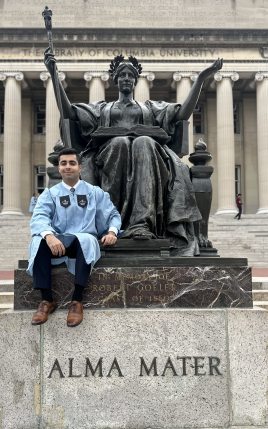 "Transitioning from high school to university can be daunting, given the pressures to choose what you want to study, partake in activities and internships and ultimately determine how you want to start your career – all in the span of a few very consequential years," Alqaim said. 
Alqaim's interest in wanting to mentor stems from his own experience at Columbia, where he was introduced to an alumni network and inclusive student community. He soon learnt that Columbia and some other universities actively supported first-year students in selecting courses, applying for campus societies and recruiting for selective careers.  
"Even before stepping foot on campus, I was being supported by a community committed to my success, enabling me to transition quite seamlessly once I arrived on campus," he says. 
Alqaim knew he wanted to pay it forward and ensure other students felt this level of support. To date, Alqaim has mentored 11 Academies students from Mombasa and Hyderabad across varying aspects of the university application process. From building a shortlist of institutions that meet their academic and financial needs to approaching standardised tests with confidence and ultimately bringing their authentic self forward when voicing their achievements and background. 
One of the students who benefitted from Alqaim's mentorship is Ayaan Dewani, Class of 2023 from the Aga Khan Academy Hyderabad, who is studying at Boston University with a full-ride scholarship. 
"I am incredibly grateful for the invaluable assistance I received from Alqaim during my university application process," Ayaan said. "His guidance and support were instrumental in helping me navigate the complex and often overwhelming journey toward higher education. He took the time to understand my interests, strengths and aspirations and then provided tailored advice on which universities would be the best fit for me. His insights were spot-on, and he helped me create a well-rounded list of target schools that aligned with my academic and personal goals."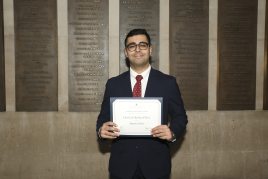 Considering it a privilege to work with students, Alqaim believes he, too, is benefitting from his mentoring. 
"Serving as a mentor has helped improve my leadership skills, exposed me to new perspectives and consolidated lessons I previously learnt," Alqaim said. "I believe the true value of mentorship lies in eliciting self-reflection and critical thinking from the mentee, rather than simply rearticulating one's own experience." 
Although he is currently working in financial services, Alqaim continues to support Academies students through this journey by working with them to find internships and jobs that appeal to their talents, and helping them foster the transition from student to working professional by connecting them to other alumni a part of the Aga Khan Academies Alumni Association.  
"My experience at the Aga Khan Academy Mombasa has been pivotal in my life," Alqaim says.