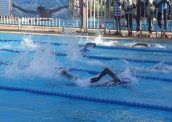 At the recent CASA Novice Gala, Academy swimmers emerged as the overall winners in the boys, girls and combined, with a total of 787 points. This was well ahead of the next place-getter, Mombasa Aquatic Club, who finished on 449 points. 
In the KSF National Age Championships, which were held last weekend, Academy swimmers took a total of one gold, four silver and ten bronze medals. Overall the boys team finished in 4th place and the girls in 5th.
Over the past month, on the sports fields our teams have been the winners in 14 of 21 games played in Rounders, Cricket, Football and Basketball. We congratulate the individuals, teams and their coaches. Well done for all your hard work and determination—it has paid off.