Service Learning group encourages literacy learning
On 25 May 2019, the year 8 Service Learning Programme group and their year 5-8 partners from Khadija Primary School presented their dual-language story books as their final demonstration for their year-long literacy project. Students read and presented skits around six culturally relevant stories they have published with their partners. Here, we take a look Nadia Ntege, year 8, and Aryan Karani, year 8, as they share their experiences of their demonstrations for Service Learning this year.
"This year in Service Learning we worked with a group of students from Khadija Primary School with the help of Ms. Aileen, Ms. Arria, Ms. Clare, as well as Ms. Lucy from Khadija, as we worked towards the aim of giving back to our surrounding community through literacy learning. Service Learning is separated into section to organise the whole process. These sections are: investigation, preparation, action, demonstration and reflection. We have been doing the above since the beginning of the year in September and last weekend, on 25 May, we finished with our demonstration. For our demonstration, we had groups mixed with students from Khadija and AKA Mombasa and we created original books that were dual-language (in both Kiswahili and English). We all cooperated to the making of the books and had our final presentation on 25 May.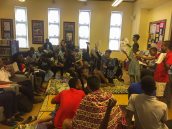 The year 8 Service Learning group presenting the books they made with students from Khadija Primary School.Each group had their own creative way of presenting their book, but in my group we decided to act it out. I volunteered to be one of the speakers to introduce what was going to happen and in my group I also read a page that was in Kiswahili. These were the times during the demonstration in which I struggled the most because Kiswahili is not a language I'm very fluent in, and a lot of times I make mistakes while speaking the language. But I think it's okay to make those mistakes because I get to learn from them for the future. This is why no matter how bad I am in Kiswahili, I offer to do a lot of things that involve Swahili speaking in Service Learning.
On that day I had a lot of fun with the Khadija students and I feel like that was the day the Khadija students in my group finally opened up and were comfortable with me which I loved and I also enjoyed the sense of accomplishment I got from knowing that all of the hard work I did in the past months have gone into a good cause and it was documented in the book we created. For me as a person, I learnt a lot of stuff like my lack of confidence is only a state of mind that I can control. I'm in charge of whether I can do something or not, which is the main reason for my growth as a student this year." - Nadia Ntege
"On 25 May, 2019, my group did a presentation to showcase the book we wrote for Service Learning. Firstly, before this day, we had to write a book for our Khadija Primary School students and for their families. We named our book, 'The Lost Kazoya'. This book is about a girl who is very stubborn and her stubbornness almost cost her her life while on a nature trail walk in the US. She was saved by a magical elephant who returned her to her family.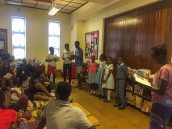 Year 8 students at AKA Mombasa helped students from Khadija Primary School to create books in order to promote literacy learning.I think I learned that teamwork is the key aspect in a group. Without teamwork in a group, the group is a flop. In our group, mostly everyone had participated very well in our group, and that is why our demonstration went well. The thing that I learnt about myself is that I am a person who can achieve my goals by doing hard work and I have accomplished one of the biggest goals in my life, which was to help the less fortunate. I made this goal when I was 10 years old and I realised that God has given me almost anything I wanted. But most importantly, he gave me an education. He put me in a school with higher level education. But other people don't even have an idea about what school is. Some of them do go to school, but their literacy rate is low. I want to help those people that are in need. For me, receiving gifts is fun, but giving them is even more fun. So, I have learnt that I can achieve anything I want but I need to work hard and believe in myself." - Aryan Karani