Senior School library wins at 2018 Maktaba Awards
On 12 October the Aga Khan Academy Mombasa participated in the 2018 Maktaba Awards held in Nairobi, Kenya and won under the private school category. Joyce Wangari and Phylis Nyariki, the Academy's Senior School librarians, attended the ceremony where the judges evaluated the library.
"Being recognized nationally as the best library under the private school category is a great achievement and a source of motivation to me as an information professional," Phylis said.
The Maktaba Awards, organised by the Kenya Library Association (KLA), aims to recognise libraries displaying excellence in providing informational services and library resources in the country.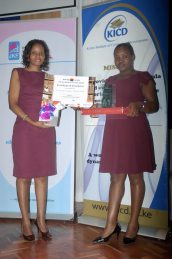 Joyce Wangari (left) and Phylis Nyariki (right) at the 2018 Maktaba AwardsAs part of the evaluation process, the judges also assessed libraries based on the currency, diversity and relevance of the library collections; innovation and creativity in service provision; the application of modern technologies in library services; the collection, preservation and dissemination of local content and indigenous knowledge; and the service provided to the local communities.
"As a library we have ensured that all of these key factors were observed," Phylis said. "It's not easy to win since it's very competitive, but through hard work and being determined to give the best services to all library users, this has led to success."
Joyce said the Senior School library has won multiple awards since the beginning of the Maktaba Awards in 2010, which she hopes to maintain in the future.
"Winning this award helps us gauge where we are now and what are our areas of improvement in terms of resources, services, facilities and integration of ICT in library management," Joyce said. "It also serves as a motivation to us as librarians."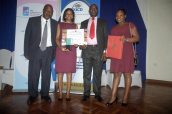 Joyce and Phylis with KLA's Chairman Constantine Nyamboga (far left) and KLA's Executive Officer Edward Oswe (second to right)With this win, the library was awarded with a trophy, a certificate, a check for Ksh. 30,000, a Kindle reader, 200 books from Book Aid International and a kamusi (dictionary) from the Jomo Kenyatta Foundation.
Phylis said this award is not a temporary win for the Academy, but something that is beneficial to the Academy for a long-term.
"Through the Maktaba Awards, the Academy is well represented and marketed," Phylis said. "Even universities visit our library for benchmarking just to come see this award-winning library and yes, it feels good."
Both Joyce and Phylis said this accomplishment could not have been possible without the continuous support from various members of the Academy.
"We appreciate our users such as the students," Joyce said. "We also appreciate the staff members and the management for the continued support and allocation of an annual budget that ensures the smooth running of the library operations and acquisition of current resources."
By Anusha Lalani