Sara Alidina's Sporty Summer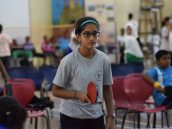 Sara playing at the table tennis tournament in Dar-es-Salaam.Sara Alidina, a year 8 Aga Khan Academy Mombasa student clinched second-place in the "Tanzania National Open Table Tennis Championship 2016", which was held from 06-08 August in Dar-es-Salaam, Tanzania.
Sara's hard work, determination and tireless training shone throughout the tournament as she competed with opponents much older than her from Kenya, Uganda and Tanzania to emerge as runner-up in the Under-18 age category.
While reflecting on her performance at the tournament, Sara stated, "It was a really ecstatic feeling beating players up to six years elder than me. The tournament was played using the round robin system in which I won all my matches until the finals. Unfortunately, I lost the finals to the second best player in Africa in my age category. It was a tough match and I tried my hardest. Moreover, the experience of the tournament was quite exhilarating for me…I was not only glad that I had been ranked second in my country but also glad that I had got the experience of playing in such tournaments."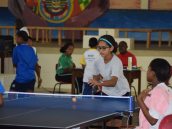 Sara in action.Sara's father Rahim Alidina says that she has been playing the sport since 2012 when she was nine years old. "I immediately noticed that she seemed like a natural," explains Mr. Alidina. She played in the U-10 and U-16 categories respectively for the next four years and continued to win despite not having any formal training. She then began training with the Tanzania National Table Tennis Coach, Mwalimu Issa Mtalaso.
Mr Alidina appreciates the support that AKA Mombasa and coaches from its Sports department provided Sara by facilitating her training. As Sara starts the new academic year at the Academy, she plans to keep training and participating in as many table tennis championships as she can while aspiring to represent her country in the sport.
Assistant Sports Coordinator Jimnah Kimani said that the Academy is committed to supporting Sara in her training and exposing her to tournaments both within and outside of Mombasa. We wish Sara good luck and look forward to seeing her conquer more championships. Go Sara!
 By Aleesha Suleman
Photo Credit: Jimnah Kimani