Safaricom and Academy Choirs Make Music Together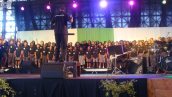 On Saturday, the Commons came alive to the sound of music when the Safaricom Choir came to visit. The Academy was delighted to host the 70-member choir who travelled from Nairobi to give two concerts. The concerts opened with a performance from The Tribe, a group of Senior Academy students, who performed their rousing signature piece Tarakihi, which is always a show stopper. That was followed by performances from the Academy's Junior choir, its award-winning Senior choir, the Aga Khan A Capella Quartet and the Wema Centre choir, who delivered a short performance under the direction of Mr Philip Agutu.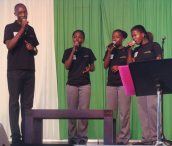 Then it was the turn of the Safaricom Choir, who performed Zimbe, a wonderful work comprised of a collection of African songs, which included participation by our choirs in some sections of the work. After a short interval we heard the highly acclaimed Gospel Mass which brought the concert to a rousing finish.
The Safaricom events team had fully decorated the Commons, and there was a full sound and lighting rig to enhance the visual and aural effects. It was a real partnership between them and us, and all choir members sported tee shirts with both the Safaricom logo as well as that of the Academy. We look forward to future visits and strengthening this great relationship.