Recognition from the University of Toronto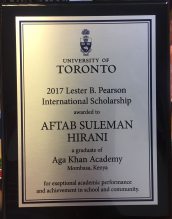 University of Toronto
, congratulating the Aga Khan Academy Mombasa on winning one of the Lester B. Pearson International Scholarships. Aftab Hirani (AKA Mombasa Class of 2017), won this award this past Academic year, which covers four years of tuition and living expenses. 
The University Counselling office is proud to share with the AKA Mombasa Community that they received a letter and plaque from the president of the
Some excerpts from the letter:
"Created to nurture young minds who exemplify the intellectual vigour and leadership of U of T  scholars, Pearson Scholarships are awarded annually to thirty-seven incoming students with outstanding achievements in and beyond the classroom. Mr. Hirani's accomplishment is an emphatic testament to your school's academic strengths."
"I am delighted that Aftab will be joining our community, and confident that his journey will be rich with discovery, imagination, and impact."
"May I extend my warmest congratulations to the students and staff at Aga Khan Academy, and invite you to nominate your best upcoming students for future Pearson Scholarships."
Thank you to everyone who helped Aftab get where he is today! 
For more information on the 2017 Pearson Scholars, click 
here
 and for more information about the scholarship, click 
here
.
By: Samantha Caras