Pushing creative boundaries with the Year 8s
Year 8s at the Aga Khan Academy Mombasa have been utilising their time at home to push their creative boundaries through music. Through an assignment, students have discovered their talent through playing musical pieces on an instrument, singing while accompanying themselves on a guitar or piano, and learning how to compose music or do mashups using a software.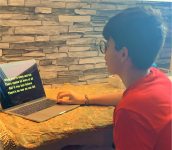 Aman Ratani learning lyrics.Aman Ratani from Kinshasa, Democratic Republic of Congo said he's been enjoying his music lessons and is getting more confident about his singing. He also said he's slowly been perfecting his craft at home with support from his music teacher.
"We're doing something fun and I've been learning a lot," Aman said. "I've been researching a lot about music and cannot wait to go deeper into the journey," Aman added about immersing himself in the experience.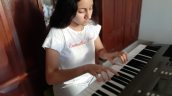 Ilhaam Ladha playing the piano.Ilhaam Ladha from Mombasa, Kenya has been practicing music by playing some chords on the piano. She said the transition to online learning was tricky at first, but one thing that made it easier for her is doing what she loves most – playing the piano.
"I'm able to play the piano more often, and with the help of both my brothers, Hisham and Ayman, who also play the piano," says Ilhaam, who's been learning more each day. "Our current task for music is to work on further improving our skills in any musical way, be it playing an instrument, singing or exploring modern forms of music. This way, I can ensure that I plan sessions for myself where I make progress each time."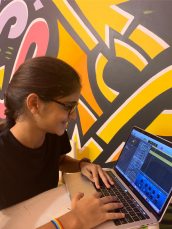 Zianna Alidina composing music on GarageBand.Zianna Alidina from Dar es Salaam, Tanzania has been composing musical pieces using GarageBand – a software that works with digital audios to create music or podcasts. Zianna has been having fun recording, playing and listening to multiple tracks of audio using effects. 
"I am really enjoying it as I like to listen to various types of beats and musical tunes to come up with a musical piece," says Zianna. "It's a delightful experience."
The head of the Expressive Arts Department Stella Wangu, who also teaches music, is a particularly proud teacher and considers herself lucky to witness the creativity of the students and their personal musical journeys. "Watching my students take that courageous step of self-discovery, applying skills and knowledge gained in class to chart their personal musical journey gives me pride," Stella said.
"The teacher takes the role of the student every now and then. By the end of this journey, my students will have exposed me to many areas of music that I haven't previously engaged in. I am excited to be a part of their journeys. This is what the International Baccalaureate calls 'student agency', I believe," added a proud Stella.