Photography Workshops in Full Swing!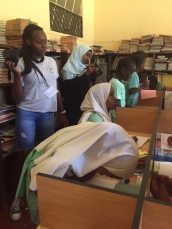 Students photograph the art classYesterday, 6 June 2018, was a very exciting day for the 20 students taking part in Frederic Roberts Photography workshops here at the Academy! The students have been taught the ropes of photography and photojournalism, and are now working on assignment in various sites. At this point, they are shooting quality photos that could be printed into big name publications. For some of the students, it has only been four days since holding a camera for the first time!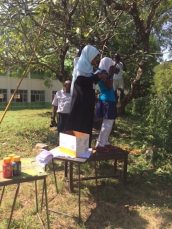 Students hopped on tables to get the right snapThe photography team is well-versed in photojournalism and operating a camera manually.  As Fred likes to say, "We are injecting these young kids with all of the information they need and we know they can handle it." It definitely shows in the quality of photos they have been taking and the technical eye that they have developed over the last few days.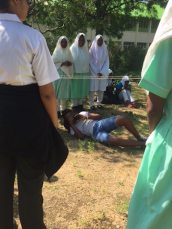 Janice working hard to get the best photoThe workshop complements lectures on technicality with on-campus assignments that vary from working with shadows to capturing photos of their partner in a rainy and gloomy setting. They have also been visiting various partnering sites where they have to shoot 300 photos in a few hours. From these 300 photos, they must choose the top three to be edited. 
We had groups shoot photos of STEM projects at Mbaraki Girls School, cultural exhibitions at Freretown School, the First Aid club at the Academy and the shamba (garden) implemented by the Young Farmers Club. The students climbed trees, got down on the ground and hopped on tables just to get the right shot!
The graduation ceremony for the workshop takes place this Saturday from 10-12 and we're excited to see the outcomes of the workshop displayed in the Commons as well as celebrate the students' achievements. This is just the beginning of an exciting journey that has begun by empowering these young people, not only to visually tell stories with skill, but also to believe in their capacity to do more, and be more.